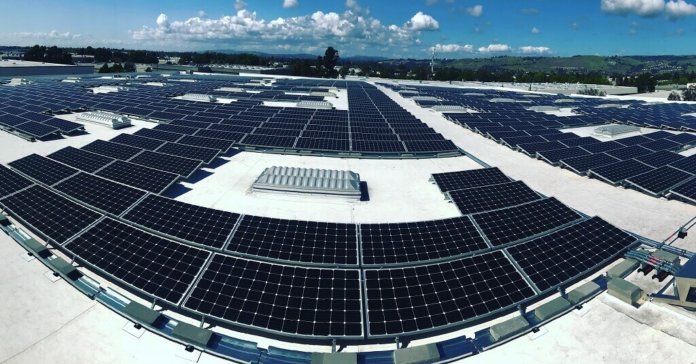 California-based Coast Citrus Distributors, a wholesaler of fruits and vegetables in the U.S. and Mexico since 1947, has completed a 432 kW rooftop solar system on its Union City, Calif., facility. Altogether, the company's solar portfolio now totals 2.1 MW.
Coast Citrus also has 1.1 MW and 655 kW rooftop projects on its Los Angeles and San Diego facilities, respectively. Borrego Solar Systems developed, designed and built Coast Citrus' projects. The systems are expected to generate approximately 4.1 million kWh of energy annually, which will significantly reduce Coast Citrus' energy costs, says Borrego.
"After deciding to move forward with solar on our San Diego headquarters in 2015, we were convinced that it was the right economic decision for all of our facilities," says Isabel Freeland, chief financial officer of Coast Citrus. "It simply makes sense for us, given our large warehouse buildings with open, flat roofs, the amount of energy we use, and the nature of utility rates in Southern California. Solar aligns with our aim to improving the value we provide for customers and being a more sustainable organization."
Coast Citrus financed each of its solar projects with operational leases with Farmers and Merchant Bank. The leases enabled the company to go solar without paying any upfront costs and realize cost-savings as soon as the systems began operating.
"Coast Citrus' facilities' energy needs made solar an ideal choice for lowering its operational costs," says Kyle Kearney, vice president of project development for Borrego Solar's Western region. "Its use of ripening rooms, freezers, refrigerators and packing machinery use a lot of energy – making rising, volatile energy rates a risk factor for the growing company. With solar, Coast Citrus is able to reduce the amount of energy it needs to buy from the utility and minimizes its exposure to increasing energy costs while it continues to expand operations."
Throughout the term of the lease, the new system is expected to generate enough clean energy to offset nearly 3,300 tons of carbon dioxide, according to Borrego Solar.