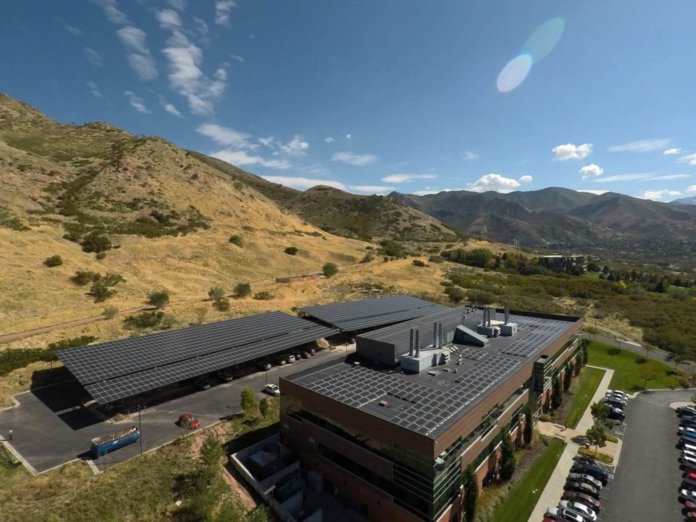 Celtic Bank, a nationwide SBA lender headquartered in Salt Lake City, has announced it recently closed funding on a 1.5 MW solar project at the University of Utah. The panels were installed at the 729 Arapeen and 383 Colorow facilities within the University of Utah Research Park and include a variety of mounting configurations (rooftop, parking canopy, and ground).
The company says that although some lenders limit their involvement to providing tax equity, permanent debt or construction funding, Celtic Bank provided all three capital components for this project. By partnering with Celtic Bank, the university was able to complete this project with no out-of-pocket costs and no taxpayer capital at risk, the company adds.
"The University of Utah is excited about the opportunity to significantly expand our alternative energy sources," says Jonathon Bates, the university's real estate administration executive director. "These projects not only align with the university's commitment to be carbon neutral by 2050, but also begin the process of reinforcing sustainable building practices in Research Park on the cusp of its 50th birthday."
Amy Wildermuth, chief sustainability officer at the university, adds, "Projects like this one, which can supply a whopping 1.5 MW of power, are much more than token gestures. They diversify our energy supply and are visible reminders of our commitment to better air quality and carbon neutrality. To do this at no increased cost to the university and without using taxpayer funds is truly a remarkable accomplishment."
The new solar project represents a combined effort with local contractor EFG Consulting, the University of Utah and Celtic Bank, among others, to increase the renewable energy sources in Salt Lake City.
Cody Deeter, president of EFG, said, "Colorow LLC, as owner of the solar array, is grateful to partner with the university as it continues to fulfill its mission as an environmental steward. We are also grateful to partner with Celtic Bank, who funded the project, and Hunt Electric Renewables, who designed and built the project. This is a wonderful example of how great partnerships can make a meaningful impact on the future as the university generates onsite power from the sun for the next 20 years and beyond.
"Celtic Bank was excited about being involved with this 1.5 MW facility from the very beginning," comments Justin Fuller, who oversees the renewable energy program at Celtic. "This project is a win for all of the stakeholders, but most of all, for the community as a pollution offset."