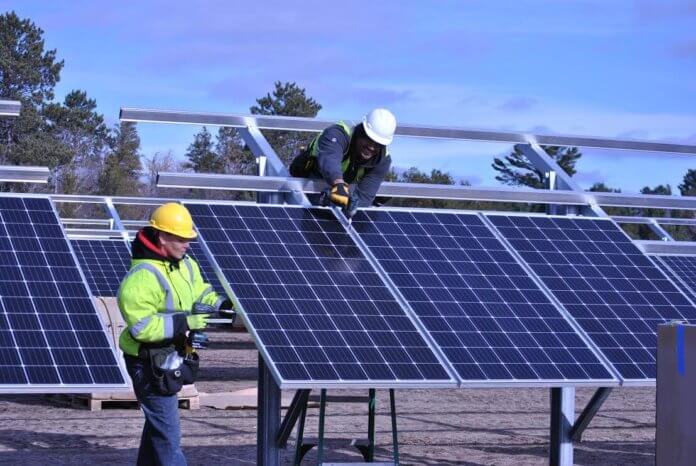 A solar project for three school districts will be completed soon in central Minnesota.
New Energy Equity, Region Five Development Commission (R5DC) and Rural Renewable Energy Alliance partnered to develop six solar arrays totaling 1.5 MW for Pine River-Backus and Pequot Lakes school districts and Central Lakes College.
These facilities are expected to reduce each school's carbon footprint by 1,420 metric tons of carbon dioxide, as well as provide discounted and predictable electricity costs, over the next 25 years. R5DC secured $2 million in funding from an Xcel Energy grant.
Construction of the largest site, for Pine River-Backus, began last October and was completed in December. This 800 kW solar array will offset more than 80% of the entire district's electricity load.
The second array, located at Pequot Lakes, is currently under construction. This 354 kW rooftop installation required significant roof upgrades and – despite extraordinary weather conditions, including sub-zero temperatures – is slated for on-time completion in early spring. The remaining four ground-mount systems, totaling 333 kW, will be built on multiple Central Lakes College campuses this month.
"We are happy to be part of this project. Saving money while helping to get more renewable energy built for Minnesota is great for us and our students," states Dave Endicott, superintendent for Pine River-Backus Schools. "We are very grateful for the work that R5DC, RREAL and the rest of the project team put into making this happen."
The projects will also become a learning tool for each educational institution.
"We plan to bring students out to the array, to watch its performance from Web-based tracking services and other activities, to bring this project to life for our students," notes Chris Lindholm, superintendent for Pequot Lakes Schools.