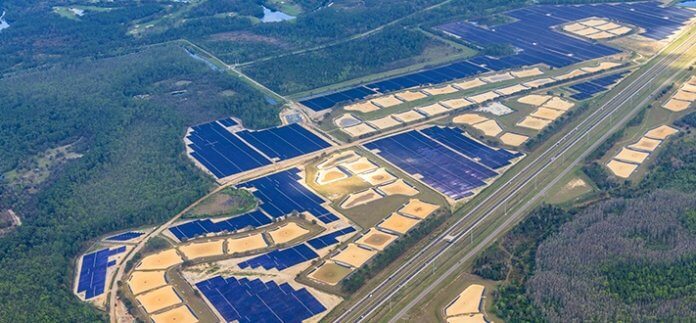 GameChange Solar says the installation speed for its Genius Tracker using pre-assembled SpeedClamps for module mounting and its pre-assembled drive system has been reduced to under 175 hours per megawatt.
"At GameChange Solar, we listen to our customers, and they asked for faster install speeds," says Derick Botha, chief commercial officer. "The SpeedClamp and pre-assembled drive systems with the Genius Tracker are examples of breakthrough product advancements that have allowed install speeds for solar trackers to drop under 175 hours per MW for the first time in the industry.
"We will continue to push the envelope to reduce total system costs, both for equipment and installation."
The time study, which details the install speed, breaks down all parts of the installation and includes staging. The time study is available upon request here.
Photo: Aerial shot of a 61 MW project in Florida that used Genius Tracker