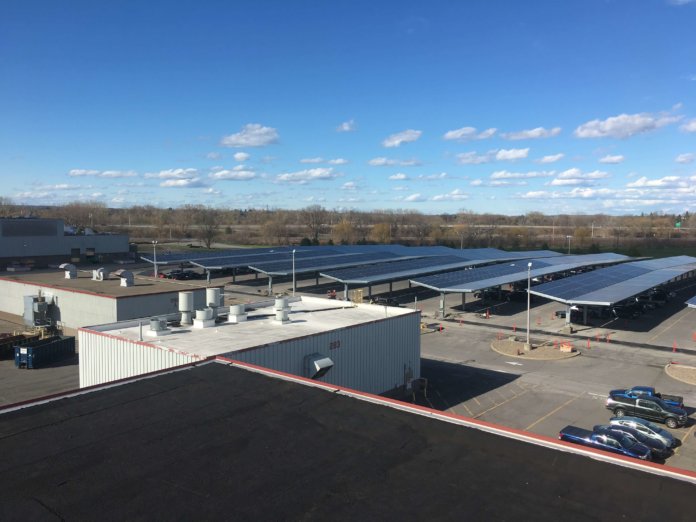 Global conglomerate GE has installed a 2.26 MW solar carport at its Schenectady, N.Y., campus and is touting it as the largest project of its kind in upstate New York. Consisting of 6,800 solar modules, the carport is expected to generate enough on-site power to save the campus approximately $1.5 million in energy costs.
The solar solution comes courtesy of GE's digital energy start-up unit, Current, and is anticipated to produce more than 60 million kWh of clean energy over its 25-year lifespan – enough to power the equivalent of 2,500 U.S. homes for a year. The project is supported by New York Gov. Andrew Cuomo's NY-Sun initiative.
"GE believes that energy should be more affordable, reliable and sustainable everywhere, including on our own campuses," says Maryrose Sylvester, president and CEO of Current. "In partnership with NYSERDA and our state and local government representatives, as well as the GE team here in Schenectady, we are excited to introduce the region's largest solar carport and support local sustainability efforts for years to come."
Current says it has installed solar carport and ground-mount solutions for commercial and industrial customers of all sizes and industries throughout the U.S., including several recently announced projects across the Northeast with customers like Partners Healthcare, Seabury and Smith & Wesson.
"We are proud that one of GE's most historic campuses will now serve as a symbol of our ongoing investment in clean energy," says Sylvester. "Together with our customers, we look forward to continuing to show and realize renewable energy's unlimited potential."