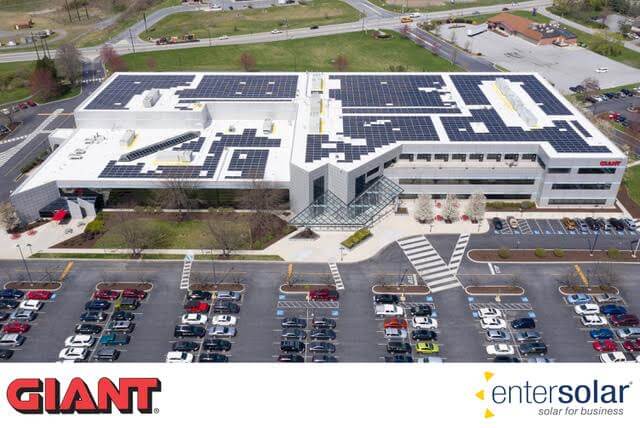 GIANT Food Stores has completed the first phase of what will be a 2.4 MW solar project at its Carlisle, Pa., support office.
Located at 1149 Harrisburg Pike, the 625 kW rooftop solar array marks phase one of the project. The new rooftop facility, which consists of 1,812 panels, produces electricity that feeds directly to GIANT'S electrical system housed within the building.
During months of high solar resource and low building energy needs, the solar array can provide more energy than the building consumes. The excess solar energy is metered, sent back into the surrounding utility grid, and absorbed by other homes and businesses in the area, enabling GIANT to receive energy credits that can be used in low solar production months. GIANT is still connected to the PPL Electric grid for electric supply when solar energy is insufficient for the building's needs.
"Addressing climate change and reducing our reliance on fossil fuels will require commitments from companies like GIANT to take an active role in changing how we think about the energy we use," said Patrick McDonnell, secretary of the Pennsylvania Department of Environmental Protection, who attended the project's ribbon-cutting ceremony last week. "Switching to renewable sources and increasing energy efficiency will both save the company money and improve the environment."
The project is being designed and developed by EnterSolar and managed on-site by Retail Business Services, the services company of Ahold Delhaize USA.
Work is currently under way for the second phase, a 1.83 MW ground-mounted solar array, which will comprise an estimated 4,968 panels spanning nearly five acres of land on GIANT's corporate campus.
GIANT also plans to incorporate pollinator habitats and will work with EnterSolar and local landscape and environmental teams to plant native plant species and flowers that are welcoming to honeybees.
"We are proud to partner with GIANT to bring its renewable solar energy goals to life," comments Steven Engelmann, director of EnterSolar. "The rooftop and ground-mounted solar projects are evidence of GIANT'S ongoing commitment to sustainability and the environment, and we applaud GIANT for leading by example across the commonwealth and beyond."