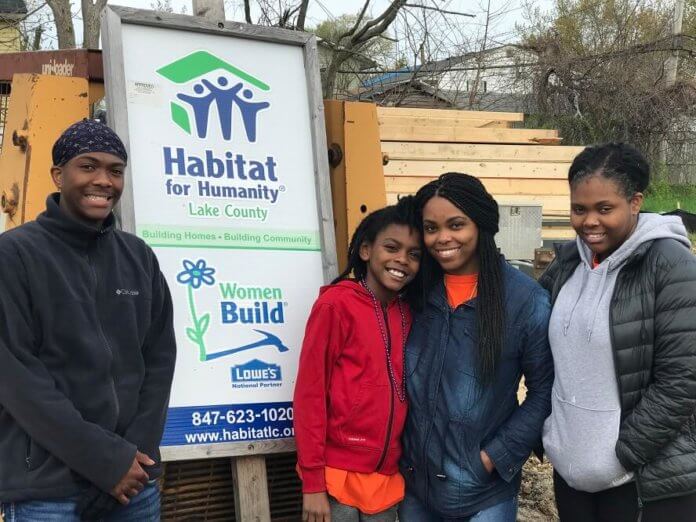 Habitat for Humanity Lake County is building a new solar-powered home for a single mother of four in Waukegan, a suburb north of Chicago.
The project is part of Habitat for Humanity's Women Build initiative, which provides opportunities for women to take proactive steps in serving their communities and learning new professional skills.
A team featuring local volunteers and family members started construction on the home in May. Rethink Electric is heading up the solar installation with volunteers throughout their company, and The Sun Co., a woman-owned energy company, donated the solar panels, inverter and installation equipment. Other companies involved in the project include All Bright Solar, Elevate Energy, Go Green Wilmette, Carmaine Means and The Kindling Group.
The contribution showcases solar power as a more affordable energy solution for lower-income families looking to reduce their utility bills, the partners say.
"Electricity is a necessity. But energy costs in certain parts of the country make housing unaffordable, particularly for working-class and lower-income families," explains Joley Michaelson, CEO of The Sun Co. "At The Sun Co., we make housing more affordable by making electricity more affordable."
"The solar panels dovetail with our goal to build strength, stability, self-reliance and shelter in local communities," adds Debbie Murphy, executive director of Habitat for Humanity Lake County. "Energy use is a large part of every homeowner's monthly payment, and this will help them for years to come."
Notably, the passage of the Future Energy Jobs Act in Illinois has helped grow Rethink Electric from six to 70 employees in the past year.
Tanya Duffie, the mother receiving the home, learned about solar technology from the Women Build project, and she and her son are now interested in Illinois' new solar training. However, for the underserved communities north of Chicago, training currently requires three-hour round-trip commutes. In turn, the College of Lake County, the City of Waukegan and Elevate Energy are working to design a new training program for the area.
"This definitely has brought us closer together as a family," says Duffie, speaking on the Women Build project. "By it being our own house, it's even better. We've learned a lot by helping build our own home. This has taught us what partnership is about. It has been a great experience for us as a family to be able to do this."