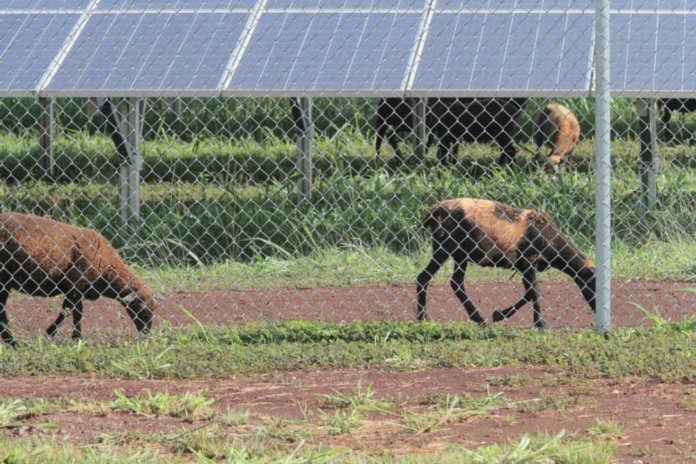 Hawaii Gas has dedicated the new Waihonu Solar Farm with a blessing of the project facilities on the grounds of Honbushin International Center in Mililani. Consisting of Waihonu North LLC (5 MW) and Waihonu South LLC (1.5 MW), for a combined total of 6.5 MW, the Waihonu Solar Farm is currently the largest active solar farm on Oahu and has the ability to power approximately 1,000 homes on the island.
The Waihonu Solar Farm also uniquely integrates farming and technology. The solar farm's landscaping program incorporates sheep grazing under the solar panels, reducing dust from traditional grass cutting, which can lower the efficiency of solar panels.
"This is an important milestone for Hawaii Gas as we further advance renewable energy and sustainability for Hawaii," says Hawaii Gas President and CEO Alicia Moy. "Earlier this month, we received a contract from the City & County of Honolulu to capture and process biogas from the Honouliuli Wastewater Treatment Plant, adding up to 800,000 therms of biogas annually. Today, we are honored to welcome the Waihonu Solar Farm to our 'ohana."
The solar farm is contracted to sell electricity to Hawaiian Electric under a power purchase agreement, which has a 20-year initial term at a fixed rate of 23.6 cents/kWh.
Alan Oshima, Hawaiian Electric president and CEO, says, "We welcome projects that move Hawaii closer to our 100 percent renewable energy goal. Achieving that goal will take a diverse mix of renewable energy resources and strong collaboration, and these projects are a great example of what it will take to get there."