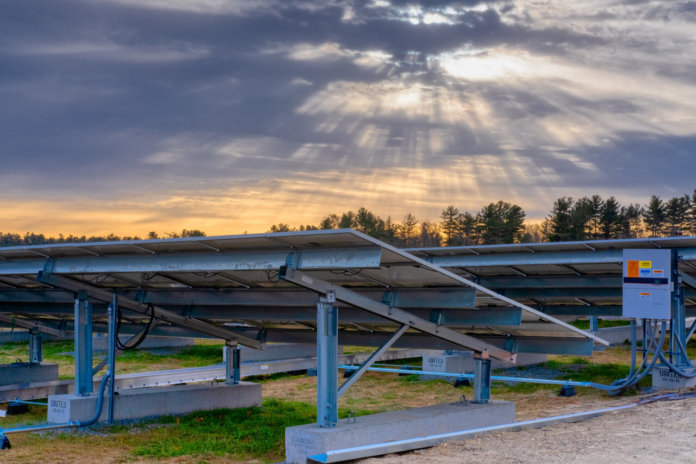 Kearsarge Energy LP and NEC Energy Solutions (NEC) have completed one of the first solar+storage projects in Massachusetts. 
Kearsarge developed, financed and constructed the 4.5 MW solar array combined with NEC's 1.6 MW/3.8 MWh AC-coupled GSS energy storage system. The project is located on the former Titcomb pit landfill in Amesbury, Mass.
Kearsarge will own and operate the solar+storage system and will use it to provide energy capacity services for the NE-ISO market, the first in Kearsarge's 250 MW pipeline to incorporate energy storage. Amesbury is among 40 public organizations in New England and New York to partner with Kearsarge on renewable energy development initiatives.
"The partnership between the City of Amesbury, National Grid and NEC was absolutely critical to the success of this project," says Andrew Bernstein, managing partner of Kearsarge Energy. "Our mission at Kearsarge is to develop sustainable energy solutions in public-private partnerships that boost local economies, provide budgetary relief for municipalities, and enhance community life using underutilized resources like landfills."
Kearsarge and NEC will close on a master supply agreement this week, whereby Kearsarge will integrate NEC's GSS grid storage solution with their solar systems. The agreement enables Kearsarge to deploy a powerful solar+storage  solution for large-scale projects using NEC energy storage products, which have options for both AC- and DC-coupled architectures for front-of-meter and behind-the-meter markets. 
NEC's GSS grid storage solution has been in commercial service since 2008, with nearly a gigawatt of energy storage installed, contracted or awarded, with applications including peak shaving, renewable integration, frequency response, frequency regulation and voltage regulation.
Photo: A Kearsarge solar array in Amesbury, Mass.