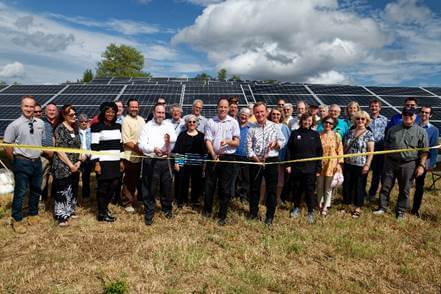 Nautilus Solar Energy LLC, a community solar operator, has cut the ribbon on a 6.6 MW community solar project in Maryland.
The facility, located on the former Panorama landfill site in Fort Washington, comprises four solar arrays on a single site. It is estimated to produce enough energy to power 1,100 homes in the region.
The project is qualified under the Maryland Community Solar Energy Generating System program; the energy will directly benefit qualified residential off-takers who are situated within PEPCO Maryland's service territory.
Nautilus is responsible for project management, long-term asset management and maintenance services for the life of the project, while Virgo Investment Group maintains ownership of the portfolio.
Designed by Dewberry Engineers and installed by SolAmerica Energy, the project was originally co-developed by Summit Ridge Energy and SynerGen Solar before being acquired by Nautilus in 2018. The project is 100% subscribed by residential customers through a partnership with Neighborhood Sun.