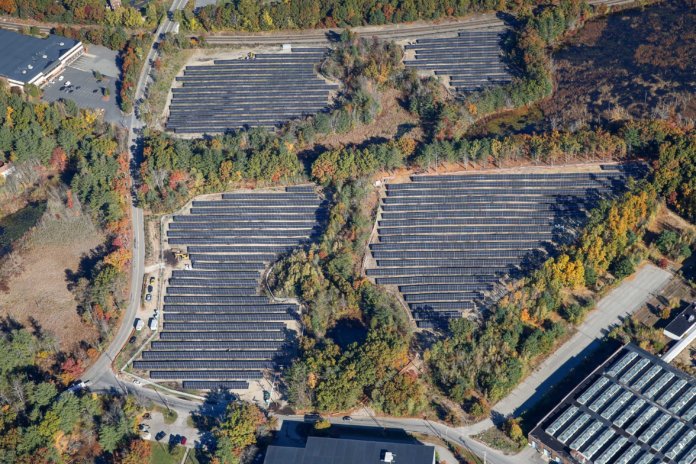 Renewable energy company Soltage LLC and independent power producer Tenaska have completed a 3.68 MW ground-mounted solar project in Billerica, Mass.
According to the companies, the project is located on a brownfield site and will generate 4,445 MWh of clean energy annually for four school systems and one local government through 20-year virtual net-metering credit agreements. Project off-takers include the Town of Barre, Mass.; the Tantasqua Regional School District; the Wachusetts Regional School District; the Ralph Mahar Regional School District; and the Petersham Center School.
The project is located on a 553-acre brownfield industrial complex that included manufacturing and rail yard maintenance facilities, open storage areas, landfills, and former wastewater lagoons surrounded by residential properties and wetlands.
The companies say power generated by the project's 11,204 photovoltaic panels is expected to supply an average of 20% of the off-takers' electricity needs at costs below local utility rates and offset nearly 6.9 million pounds of carbon dioxide, the equivalent of burning more than 3.3 million pounds of coal, annually. Because it was developed on a brownfield, the project also qualifies for the third-highest incentive levels under Massachusetts' solar renewable energy credit II (SRECII) program.
Tenaska is the primary investor in the solar facility, with Soltage acting as the power plant co-owner and operator.
"Our schools and local governments should never have to decide between rising electricity prices or expanding opportunities to those they serve," says Jesse Grossman, Soltage co-founder and CEO. "Distributed solar projects like this create tangible benefits for energy purchasers by locking in electricity costs well below utility rates, as well as for the state and local communities by returning brownfield areas to productive use."
Tenaska will co-own the project as part of a portfolio investment it made with Soltage for new asset construction in late 2015.
"We are very pleased with the successful and timely completion of this second solar project in our distributed solar portfolio managed by Soltage," says Tim Hemig, Tenaska's senior vice president. "We think it is a significant win-win to generate clean, renewable solar power from brownfield sites like this one."
To learn about the ins and outs of solar development on brownfields and landfills, check out Solar Industry's February 2017 cover story here.