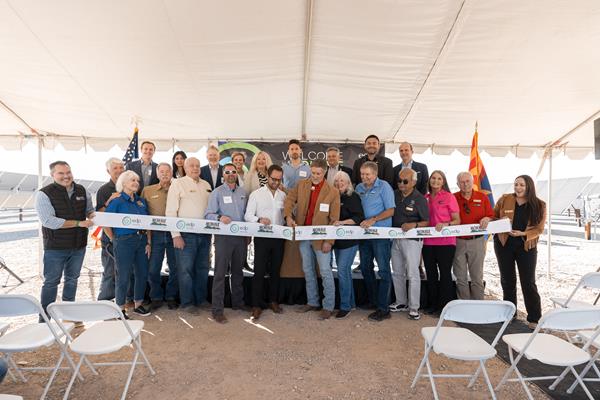 EDPR NA Distributed Generation (EDPR NA DG) is building a 23.27 MW DC ground-mounted solar array system coupled with a 60 MWh energy storage system for Mohave Electric Cooperative (MEC), a not-for-profit distribution cooperative in Arizona.
Together, the solar+storage system will help MEC provide renewable power, mitigate peak period energy use, and stabilize energy costs for its 36,700 members.
By supporting the development of solar+storage, MEC is increasing its local generation resources that can help isolate the co-op from any transmission issues and delays and avoid unstable price points in the generation market.
"We are pleased to be working with EDP Renewables on Mohave Electric Cooperative's first solar plus storage project," says Tyler Carlson, CVEO. "This project demonstrates MEC's proactive planning to increase reliability, meet renewable energy mandates and support the overall electrical grid."
The Mohave project's ground-mount solar array system, , will help MEC offset 36,247 metric tons of carbon dioxide, which is the equivalent of carbon emissions from 7,053 homes' electricity use in one year or the carbon sequestered by 43,225 acres of U.S. forests in one year.
EDPR NA DG is partnering with Prometheus Power to construct the solar array and with Stem for the energy storage. The project's energy storage system will be operated by Athena, Stem's AI-driven clean energy optimization software.
EDPR NA DG and MEC held a ribbon-cutting ceremony and on-site tour on this week to inaugurate the new solar array. Dave Harper, head of tribal engagement at the Alliance for Tribal Clean Energy, led a blessing ceremony that recognized the Mojave spiritual content of the land and emphasized that continued environmental stewardship will result in people working together for the betterment of all.