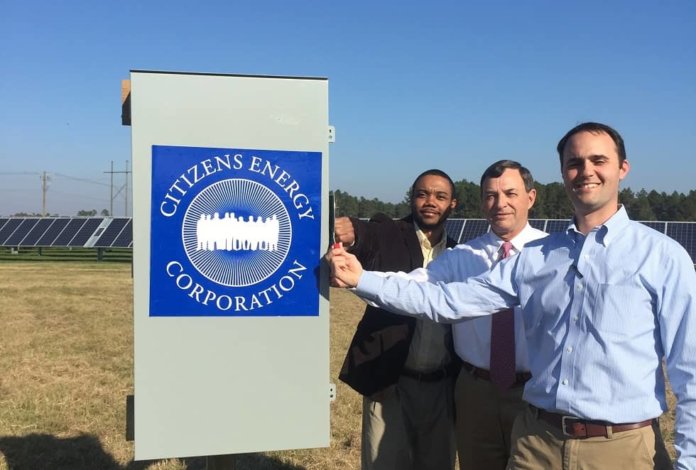 Boston-based nonprofit Citizens Energy Corp. has commissioned a 28 MW solar project on an old dairy farm in southeastern Georgia.
Located in Millen, the Old Midville Solar Project was built on 233 acres of a closed dairy farm and features 90,000 ground-mounted panels. Citizens Energy says the $45 million project created 250 construction jobs and will add $250,000 annually to county tax revenues.
The project, permitted by the Jenkins County Development Authority, is selling all of the electricity to Georgia Power, in keeping with the utility's aggressive support of renewable energy. Georgia Power selected Citizens Energy as a renewable energy provider through a competitive bid.
"We're proud of our work with our partners here in Jenkins County to build the largest solar array to date in our portfolio of 30 projects," says Brian Morrissey, a Georgia native and the managing director of Citizens Solar, a division of Citizens Energy Corp.
"This project is a win-win for everyone. It provides affordable green energy that cuts down on greenhouse-gas emissions, brings jobs and significant tax dollars to Jenkins County, and generates revenues our parent company, nonprofit Citizens Energy Corp., uses to help the poor."
Jenkins County Commission Chairman Jerry Henry, who also sits on the board of the Jenkins County Development Authority, adds, "Jenkins County is extremely proud to welcome Citizens Energy Corp. as a corporate citizen to our community. Their extensive solar panel enterprise will provide clean energy to area citizens for many years. The construction period and ongoing operations here are creating additional economic development, job creation, and improved business opportunities for Jenkins County."