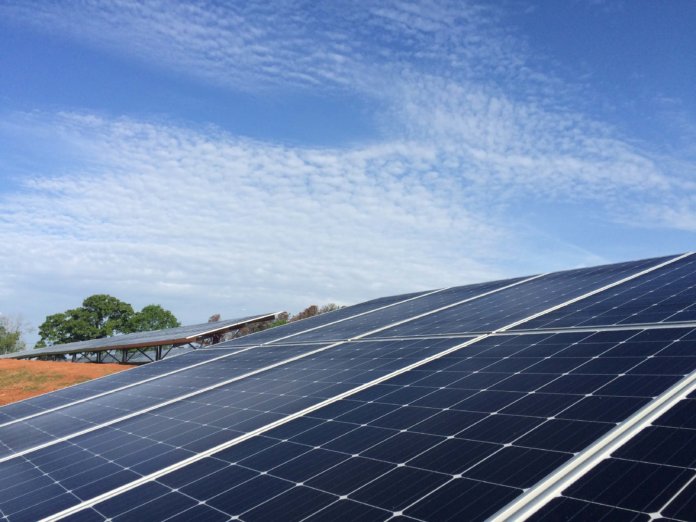 Constellation, a subsidiary of Exelon Corp., and United Renewable Energy (URE) have announced the completion of a 1 MW solar generation project at Owens Corning's manufacturing facility in Fairburn, Ga. The partners say the solar installation is designed to supply approximately 1.5 million kWh of electricity during its first year of operation to utility Georgia Power and supports Owens Corning's sustainability goals.
Comprised of nearly 3,000 solar PV panels, the project is part of Georgia Power's strategy to encourage and cultivate renewable energy sources in Georgia under a program developed in coordination with and approved by the Georgia Public Service Commission.
"Constellation is pleased to work with Georgia Power and Owens Corning in our ongoing commitment to renewable energy and sustainable business operations," says Gary Fromer, senior vice president of distributed energy at Constellation. "As a competitive energy company, we aim to provide customers a variety of options and distributed energy solutions that achieve their goals."
Constellation financed, built, owns and maintains the solar power system. Georgia Power buys electricity generated by the system and all the associated renewable energy certificates under a 30-year power purchase agreement with Constellation. Through a separate agreement, Owens Corning, a manufacturer of insulation, roofing and fiberglass composites, also receives Green-e certified renewable energy certificates from Constellation for leasing space for the solar panels at the Fairburn insulation manufacturing facility.
"Owens Corning has an ambitious greenhouse-gas reduction goal – to reduce emissions by 50 percent from our 2010 baseline by 2020," says Frank O'Brien-Bernini, vice president and chief sustainability officer at Owens Corning. "Renewable energy is already playing an important role in reducing emissions, and we're constantly seeking creative solutions, like this one, to achieve our sustainability goals."
Constellation and URE developed the project in response to a 2015 competitive bid developed by Owens Corning. It is Constellation's third solar generation project located at an Owens Corning facility, representing more than 6 MW of capacity.
"We are proud to be a part of the collaboration with Constellation and Owens Corning that made this project a success," says William Silva, CEO of URE. "Solar energy is a proven solution to meet budget, reliability and sustainability goals."
Photo courtesy of Constellation