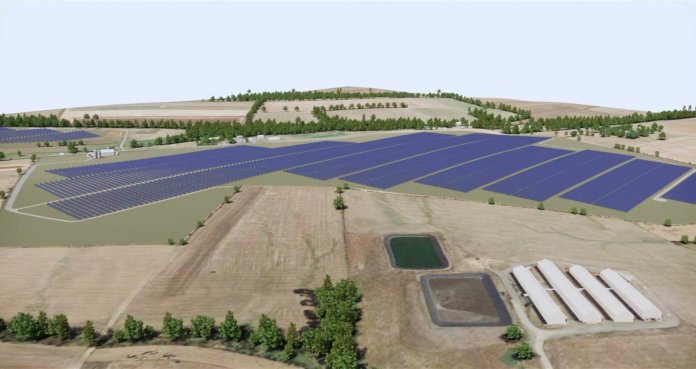 Penn State University and Lightsource BP recently announced plans for a 70 MW off-site solar development that will provide 25% of the university's electricity requirements over a 25-year term.
The project – a large-scale, ground-mounted solar array – will use over 150,000 solar panels in three locations, encompassing roughly 500 acres of Franklin County, Pa., land. The project will be located just outside of Chambersburg, near Penn State's Mont Alto campus.
"This project is a win for Penn State, a win for Pennsylvania and a win for the environment," says Rob Cooper, senior director of energy and engineering in Penn State's Office of the Physical Plant (OPP). "Among the many benefits of this significant investment in solar-based electric generation include cost-savings, lower greenhouse-gas (GHG) emissions in support of Penn State's aggressive sustainability goals, economic development with job creation, and income for host communities through development of the Pennsylvania solar market."
The targeted completion date is set for July 2020. The project supports the university's strategic plan, which cites stewardship of the planet's resources as a key priority. Since 2005, Penn State has reduced its GHG emissions by 32%, and its goal is 35% by 2020.
Though progress toward that goal has been supported by eliminating coal at the West Campus Steam Plant, additional strategies are required, notes Penn State. The new solar project is expected to save more than 57,000 tons per year of GHG emissions, boosting Penn State's GHG emission reduction to 43%.
"It has been a pleasure and an honor working with Penn State, and we look forward to delivering affordable, local solar to our Penn State partners," says Katherine Ryzhaya, Lightsource BP's chief commercial officer. "Our Pennsylvania-located solar projects will drive economic development and job growth, increase biodiversity, support Penn State's sustainability goals, and provide a cleaner, healthier environment for the community."
This is not the first solar project for the university. In fall 2018, OPP and the Alternative Energy Development Group signed a 25-year power purchase agreement for an on-site solar array, which provides 1% of University Park's campus electricity needs. In 2015, OPP – with the help of students and a $75,000 grant from the Sustainability Institute's Reinvention Fund – installed a solar array outside its main facility to provide power to charge its electric vehicles. In addition, the gift of Penn State's Class of 2015 was a solar array powering a bus stop near Beaver Stadium.
"I'm thrilled to be supporting another solar project that will provide a number of benefits to the university," says David Gray, senior vice president for finance and business at Penn State. "This project not only provides the university with a reliable and sustainable energy source but continues our progress toward our GHG-reduction goals. In addition, our goals and this project align with Gov. [Tom] Wolf's executive order establishing the first statewide goal to reduce carbon pollution and procure renewable energy to offset at least 40 percent of the commonwealth's annual electricity usage."