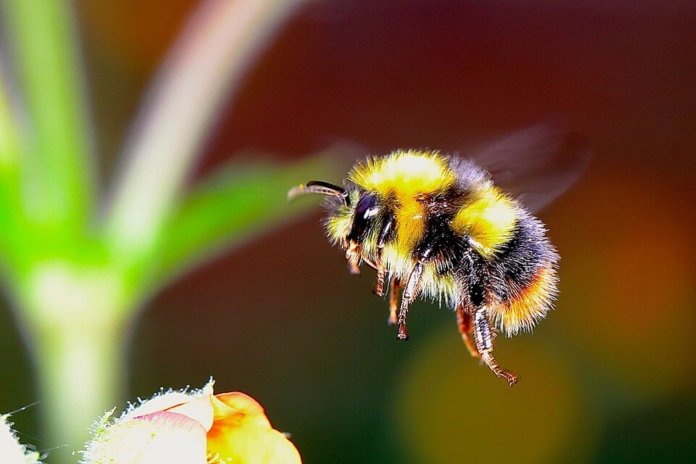 This week, solar stakeholders in Maryland and Florida are abuzz with excitement about projects designed to be environmentally friendly for bees and other wildlife.
In Maryland, developer Cypress Creek Renewables was joined by state officials and executives from project partners to cut the ribbon on the 9 MW Baker Point solar facility, the first array inspired by statewide legislation supporting pollinator-friendly solar sites.
Located in Frederick County, Baker Solar features 34,074 solar modules and is expected to produce enough electricity annually to power the equivalent of more than 2,000 homes. The National Geographic Society and Monumental Sports & Entertainment (for the Capital One Arena in Washington, D.C.) will purchase the electricity produced by the solar project, matched with national solar renewable energy credits, through a long-term contract with WGL Energy Services Inc. According to Cypress, the National Geographic Society is now powering its headquarters with approximately 50% solar energy, and the Capital One Arena is now operating using 25% solar energy.
The Maryland project is not a typical solar site, though. In addition to producing clean, renewable energy, Baker Point hosts honey-producing hives expected to each produce an average of 30 pounds of honey each season. Tended by an acclaimed University of Maryland honeybee biologist, the pollinators will forage for nectar and pollen widely throughout the solar site, which has been seeded with nine different species of native long-stemmed and short-growing flowers and warm-season grasses.
"I am proud that our district now has the first solar farm designed to meet Maryland's preference for pollinator habitat at solar farms," said State Sen. Michael Hough. "Solar energy is a growing part of our country's economy, and I'm thrilled to see Cypress Creek Renewables investing in Frederick County and providing a new source of income for local farming families."
Cypress will pay more than $2 million to local governments, including schools, over the lifetime of the project, and the company is leasing the land from farmers Glenn and Rebecca Eaves.
Peter Farlekas, president of engineering, procurement and construction at Cypress Creek Renewables, said, "Cypress Creek is thrilled to be cutting the ribbon on our first project in Maryland and one of our first projects in the country with pollinator habitat. We'd like to thank WGL Energy, National Geographic, Monumental Sports & Entertainment and OneEnergy Renewables for playing an integral role in bringing this project to fruition."
Kirsten Traynor, beekeeper at the Baker Point solar project and editor of American Bee Journal, said, "Beekeepers across the state are grateful for the state legislature's actions to increase pollinator habitat. Pollinators like honey bees provide every third bite we eat, but are often starved in our fragmented landscape. Last year alone, our state lost 55 percent of their honey bee colonies. It is our hope that the pollinator solar bill and projects such as Cypress Creek Renewables' Baker Point project will provide important habitat that supports pollinator health, while also increasing awareness of our intertwined relationship to these fragile creatures."
Meanwhile, in the Sunshine State, utility Florida Power & Light (FPL) and Audubon Florida announced a new partnership to enhance FPL's solar project sites with environmental stewardship, providing thousands of acres of habitat for native plants, birds and vital pollinators such as bumblebees and butterflies.
Through the "Solar Sanctuary" partnership, FPL and Audubon Florida are working with the Florida Wildflower Foundation, Florida Native Plant Society, Wildlife Habitat Council, local Audubon chapters and others to design and implement site-specific environmental enhancements that will make FPL solar sites bird- and pollinator-friendly havens.
As previously announced, FPL is on track to install more than 2.5 million solar panels at eight new solar power plants across Florida that will be operational by early 2018. According to FPL, the site of each new facility is being designed to allow a significant amount of the land to be planted with native grasses, trees, shrubs and vines. Plants are being chosen to provide food for birds and pollinators. Quality wetlands are being preserved, which also provide habitat for birds.
"Our beautiful state has an abundance of sun and great diversity of native plant and animal species. FPL's solar sites are transforming large sections of land. What is exciting is that each site is being designed to make the best use of areas that can benefit wildlife," said Julie Wraithmell, interim executive director of Audubon Florida. "We are so happy that FPL is taking the time to consult with Audubon and other organizations to make the best decisions about native plants. These Solar Sanctuaries will have benefits for generations."
"We are proud to partner with Audubon and other dedicated environmental groups on this wonderful project," said Eric Silagy, president and CEO of FPL. "When Audubon Florida approached us with this idea, we knew it was something our company wanted to be a part of. We are firm believers in the notion that amazing things can happen when non-profits and the private sector work together constructively, and I believe this project will set a great example for others to follow."
The FPL Coral Farms Solar Energy Center in Putnam County and the FPL Loggerhead Solar Energy Center in St. Lucie County are the first of the eight sites with approved plans to become Solar Sanctuaries.
"FPL's Solar Sanctuary site in St. Lucie County will help move us toward more green energy production and less environmental impact while maintaining efficiently priced energy for residents," said Eva Ries, president of the St. Lucie Audubon Society.
In addition to the environmental benefits, FPL's eight new solar power plants are expected to produce estimated net lifetime savings of more than $100 million for FPL customers by reducing fossil fuel use, according to the utility.
Plans for each Solar Sanctuary designation will vary from location to location based on input from local conservation groups that will advise FPL on locally important birds, native wildlife, other natural resources and specific benefits that may be achieved by using certain types of plants and supplemental habitat aides.
According to FPL, the program will also provide an added benefit to agricultural communities that neighbor many of the solar sites by attracting native pollinators that help farmers grow crops. Additional plans may include building bird perches and bird boxes and creating water recharge opportunities.
This partnership builds on FPL's pilot pollinator program, which was initiated at three solar power plants that were completed in 2016. Approximately 15 acres of pollinator habitat was designated at the FPL Citrus Solar Energy Center in DeSoto County, FPL Babcock Solar Energy Center in Charlotte County and FPL Manatee Solar Energy Center in Manatee County. Pollinator-friendly wildflowers and other native plants were planted to provide fertile habitat for butterflies, bees and birds.