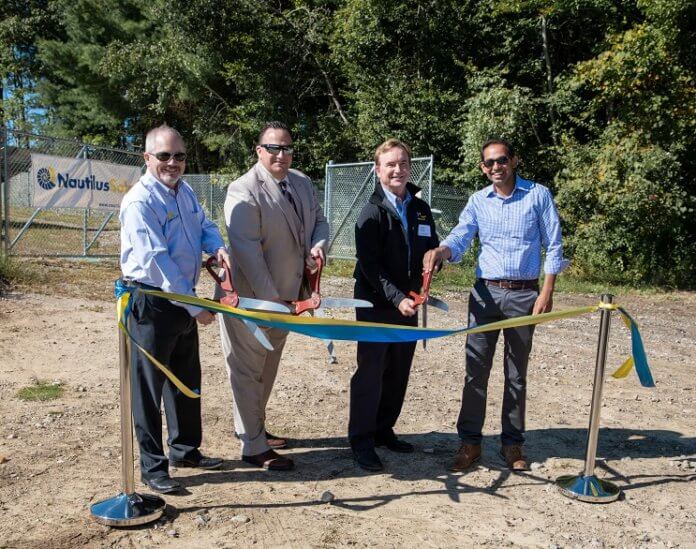 Nautilus Solar Energy LLC has cut the ribbon on what it says is Rhode Island's first operational community solar project.
Located in Burrillville, the 3.31 MW facility is part of the state's Community Remote Net Metering Pilot Program.
Using its full-service platform, Nautilus Solar is responsible for project management, long-term asset management and maintenance services. Engineered by ConEd Solutions, the project was fully developed by ISM Solar Development LLC of East Providence, R.I. It is already 100% subscribed with over 700 residential customers through Acadia Power.
"Today, we are celebrating the launch of the first community solar project in Rhode Island, which makes affordable solar power accessible to more people," says Carol Grant, Rhode Island's energy commissioner. "The state's community solar program allows most Rhode Islanders who want to reduce their carbon emissions but who cannot install solar panels on their own homes to purchase solar power at a rate lower than what they are paying now for standard offer service. This is the first of several projects expected to come online in the months ahead, giving National Grid customers more options to switch to clean energy."
Officially opened in August, the project incorporates ground-mounted, fixed-tilt installations. The system is expected to produce 145 GWh over 35 years.
While the Burrillville site is the first to go live, Nautilus currently manages a portfolio of Rhode Island projects representing 22.20 MW of total community solar capacity. The 6.68 MW Hopkins Hill project in West Greenwich is fully developed and is expected to be operational by early Q1 2020; the 12.42 MW King project in North Smithfield is expected to be operational by the end of 2020; and the 3.10 MW Beacon project in Cranston is expected to be operational in Q3 2020. Arcadia Power is now enrolling customers for all three projects.
"The goal of community solar has always been to make it possible for anyone to access clean energy savings, but the user experience has traditionally been anything but seamless," says Kiran Bhatraju, CEO of Arcadia Power. "We're thrilled to be celebrating the completion of this project by ISM Solar and Nautilus and to be providing hassle-free community solar to Arcadia Power members in Rhode Island."