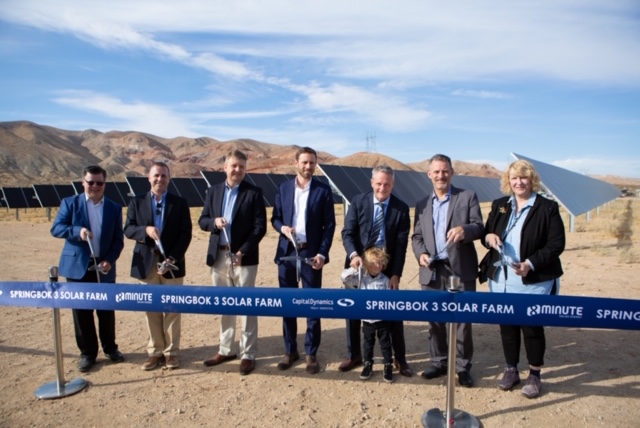 8minute Solar Energy LLC, an independent solar and storage developer in the U.S., and Capital Dynamics, a private asset management firm, have announced the commercial operation of the 450 MW Springbok Solar Cluster in Kern County, Calif.
The Los Angeles Department of Water and Power (LADWP) will purchase all of the power generated from the project, which encompasses three total projects, all originally developed by 8minute Solar Energy. The final facility, Springbok 3, was completed last month. The cluster includes Springbok 2, completed in 2016.
"The Springbok Cluster is the first place in the country where solar beat the price of fossil fuels," says Tom Buttgenbach, president and CEO of 8minute Solar Energy. said Tom Buttgenbach, President & CEO of 8minute Solar Energy. "Los Angeles and LADWP have been fantastic to work with. Together, we're showing the world that growing economies can be powered reliably and affordably by solar."
Springbok 1, 2 and 3 are estimated to produce a total of 944 GWh for Los Angeles. The amount of carbon-free energy is estimated to serve up to 157,333 homes and avoid up to 403,788 metric tons of greenhouse gas emissions from a conventional fossil fuel power plant – equivalent to taking 82,572 cars off the road for a year.