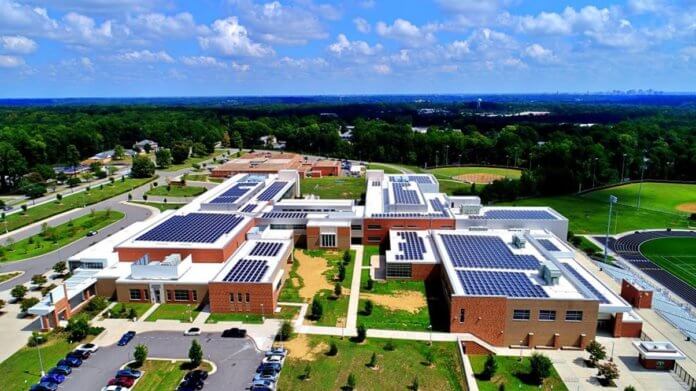 Standard Solar Inc. is wrapping up construction on a 10-site, 2.9 MW solar project for Richmond Public Schools (RPS) in Virginia, for delivery by the end of the year.
In partnership with a team of Virginia-based firms, Standard Solar funded, designed, built and will operate the projects, which are estimated to provide almost a quarter of the school's power needs. A 20-year power purchase agreement is attached to the development.
"Energy management with education and local engagement is a powerful combination, and with less funding being allocated to schools year over year, public school administrators must find innovative means to deliver programs," says John Finnerty, director of business development for Standard Solar. "With our smart project financing, solar expertise and local engagement, we can provide the funding to make implementing a solar energy program without capital expenditure possible."
Solar arrays were installed at 10 elementary and high schools throughout the Richmond and Dominion Energy service area: Broad Rock Elementary School, G.H. Reid Elementary School, Huguenot High School, J.B. Fisher Elementary School, J.H. Blackwell Elementary School, Linwood Holton High School, Lucille M. Brown Middle School, M.J. Jones Elementary School, Martin Luther King Jr. Middle School and Oak Grove Elementary School.
RPS received a grant from the RVA Solar Fund, a component fund of the Community Foundation for a greater Richmond. The Community Foundation committed a $100,000 award to support a new Sustainability Associate position for RPS, as well as the purchase and installation of energy monitoring systems at selected school sites.