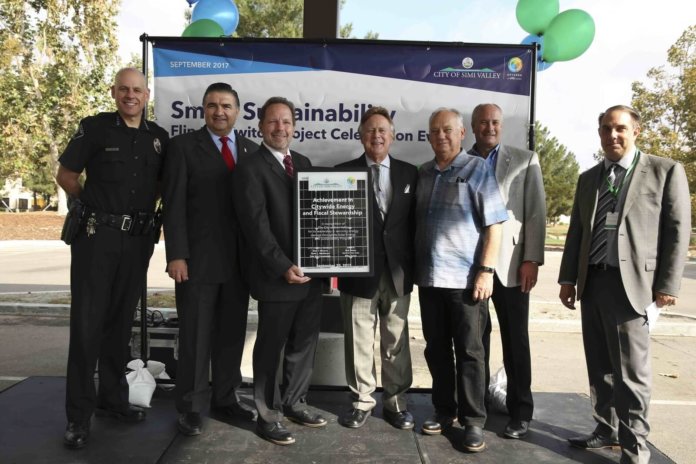 The City of Simi Valley, Calif., celebrated completion of a city-wide solar program during a "flip the switch" event at the Simi Valley police department last week. The police department is one of five municipal locations with new rooftop solar, solar ground mount, and solar canopy parking structures that is now generating enough clean, renewable energy to power one-third of all city-owned facilities.
Through a long-term relationship with a Pasadena, Calif.-based team from OpTerra Energy Services, Simi Valley held the community event to showcase the 2.2 MW of total solar capacity that was recently completed at the city's police department, city hall, public library, senior center, and water quality control plant.
Regional leaders from the Ventura County Office of Education and other local elected officials attended in support of the impactful energy project, which is expected to save the city government $15.5 million in energy savings over the first 20 years of production.
In addition to the successful solar implementation project, the partnership between the City of Simi Valley and OpTerra encompasses an energy conservation awareness program called Simi Valley Conserves. Over the solar program development in 2017, Simi Valley Conserves helped build workforce capacity in cleantech and energy by training and hiring 15 Simi Valley Unified School District senior high school students as Energy Ambassadors.
As Simi Valley Mayor Bob Huber shared during the event, "Along with our successful solar program this year, we are also very proud of our high school Energy Ambassadors who helped educate our residents about easy steps we can all take to be more sustainable with our resources – helping to save Simi Valley households financially as well. As a result of Simi Valley Conserves, these hardworking students engaged community members at 80 events and helped organize energy consultations for 280 homes."
John Mahoney, president and CEO of OpTerra Energy Services, stated, "Through a successful, united partnership, the City of Simi Valley and OpTerra have achieved a fiscally and environmentally advantageous program that will have long-term positive economic and human impact in the community. OpTerra is proud to recognize Simi Valley's leadership as a steward of taxpayer dollars in Ventura County, integrating long-term energy savings projects into plans to improve public services, as well as prioritizing the build-out of a successful student internship program tied to the energy work."