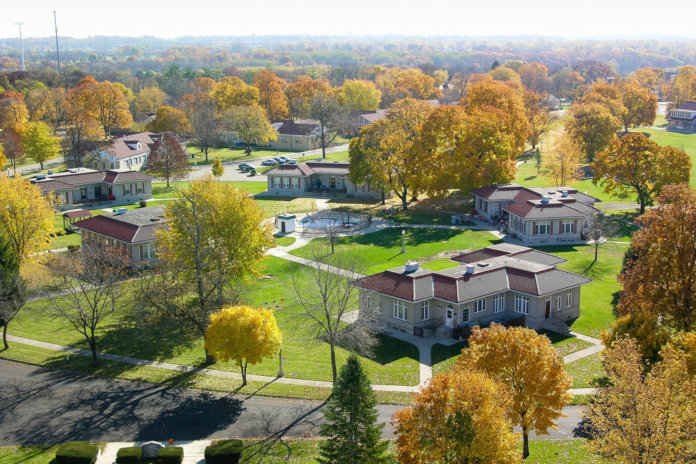 ForeFront Power is installing 2.8 MW of solar PV capacity for Mooseheart Child City and School, a residential childcare facility located on a 1,000-acre campus 38 miles west of Chicago.
The on-site, ground-mounted project is expected to save the campus $2.6 million over 20 years while offsetting 114 million pounds of carbon emissions, says ForeFront, which notes that Moosehart has no upfront costs for the installation.
Mooseheart contracted with Progressive Energy Group of Aurora, Ill., to perform a thorough analysis of energy efficiency and on-site energy solutions to reduce overall energy expenses without burdening its operating budget. Mooseheart is a home for children and teens in need, from infancy through high school. Dedicated in 1913 by the Moose fraternal organization, Mooseheart cares for youth whose families are unable to care for them.
Through a power purchase agreement (PPA), ForeFront Power will design, permit, finance, install and maintain the solar project for a 20-year term. In return, Mooseheart pays for the electricity generated by the system at a predictable rate, explains ForeFront.
"We found the right opportunity with ForeFront Power," says Gary Urwiler, executive director of Mooseheart Child City & School. "We could not have afforded solar without the current policies in Illinois and the PPA model with no upfront cost. Mooseheart invested $11.4 million into school renovations back in 2013, so we wanted to do something out of the ordinary to impact our energy budget."
Furthermore, students at Mooseheart will see firsthand how the solar project works and how its energy production impacts facilities around the campus. ForeFront Power will install a kiosk with system monitoring, as well as implement free energy lesson plans from Schools Power.
"Mooseheart is a unique environment for education because the students actually reside on campus," notes Charlie Sohm, chief development officer of ForeFront Power. "We are excited that students will be truly integrated with the adoption of on-site renewable energy while they live and learn on campus."
Mooseheart selected ForeFront Power through a request for proposals process that was conducted by Progressive Energy Group.
"When our staff met to review the project, it was a no-brainer for us," adds Urwiler. "Why wouldn't we take advantage of this? If it goes well, who knows what we do next. The future is bright at Mooseheart."
The solar project will be constructed upon formal certification to receive solar renewable energy credits, made possible by the Illinois Future Energy Jobs Act of 2016. It is expected to produce 3.6 million kWh of electricity during the first year of operation.