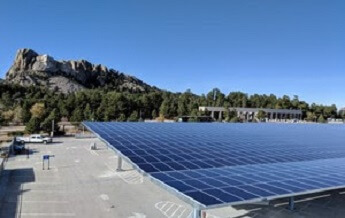 Xanterra Travel Collection has announced a new solar project located at Mount Rushmore National Memorial in South Dakota.
The 346 kW project, dubbed the Thomas Jefferson Solar Canopy, will provide over half of the electricity used by Xanterra's gift shop and restaurant at Mount Rushmore. The project is expected to produce approximately 480 MWh annually.
The solar canopy, which includes 975 panels mounted on a carport structure, is expected to reduce Xanterra's greenhouse-gas emissions by 24% per year. The project was funded by Xanterra, a national park concessioner that operates the Mount Rushmore parking facility.
According to Xanterra, the system is the second-largest solar installation in the state. Project partners include Pivot Energy, SunPower Corp. and Circuitus Energy.
"As many of Xanterra's national park operations are literally at the end of the electric transmission line, renewable energy options such as solar provide us with reliable power while also decreasing our overall carbon emissions," says Andrew N. Todd, president and CEO of Xanterra. "Our commitment to the environment and the communities in which we operate remains constant, and we will continually search for ways to collaborate with the National Park Service to modernize our infrastructure and implement new technologies that help us reach our ambitious 2025 goals."
There will be a formal ribbon-cutting ceremony for the project on Earth Day next Monday.