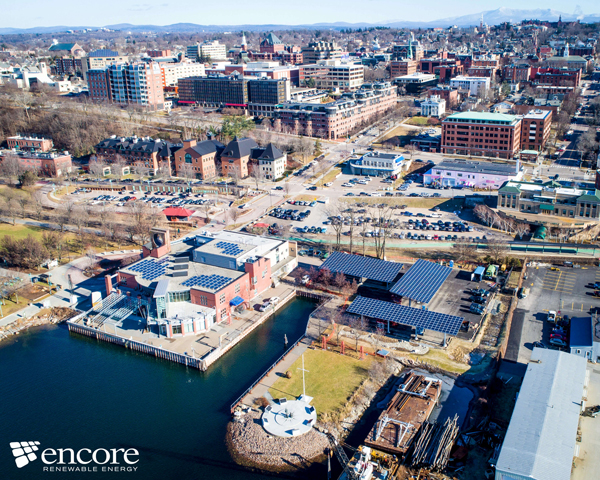 A solar project built by a public-private partnership for a science museum in Burlington, Vt., has commenced operations.
The 156 kW solar carport, located at the ECHO, Leahy Center for Lake Champlain science education center, uses bifacial panels that capture reflected light as well as the direct rays of the sun, increasing its output. It was constructed at the same time as a new parking lot and stormwater pollution control system built by ECHO and the City of Burlington to help improve the water quality in Burlington's inner harbor.
"We are so pleased to have been able to work with ECHO and the City of Burlington in delivering this important project," says Chad Farrell, CEO of Burlington-based Encore Renewable Energy, which built and will operate the array. "This project is a strong example of the forward-looking thinking and action that we need from municipalities, nonprofits and other organizations below the national level to advance the clean energy economy and address the negative impacts of climate change."
The solar canopy project required complex engineering, says Encore. The company had to design for varying lakefront water levels, high winds, specific truck and bus traffic patterns at the science museum, and existing underground infrastructure. Due to ECHO's location in Burlington's previously industrialized waterfront, soil and water quality were continuously monitored throughout construction in strict adherence to the State of Vermont's regulatory process for environmentally contaminated property.
"The opportunity is finding ways to take urban settings in which we already have high land use, like a parking lot, and turning it into renewable power production," says Phelan Fretz, executive director of ECHO.
ECHO was Vermont's first LEED-certified building when it was built in 2003. The building already features solar panels on the roof, natural lighting, passive heating and cooling, smart lighting, and specially controlled HVAC systems, built from renewable materials and locally sourced supplies.