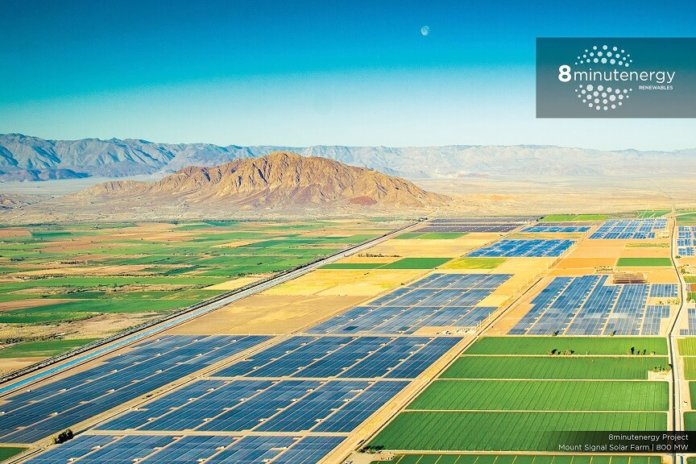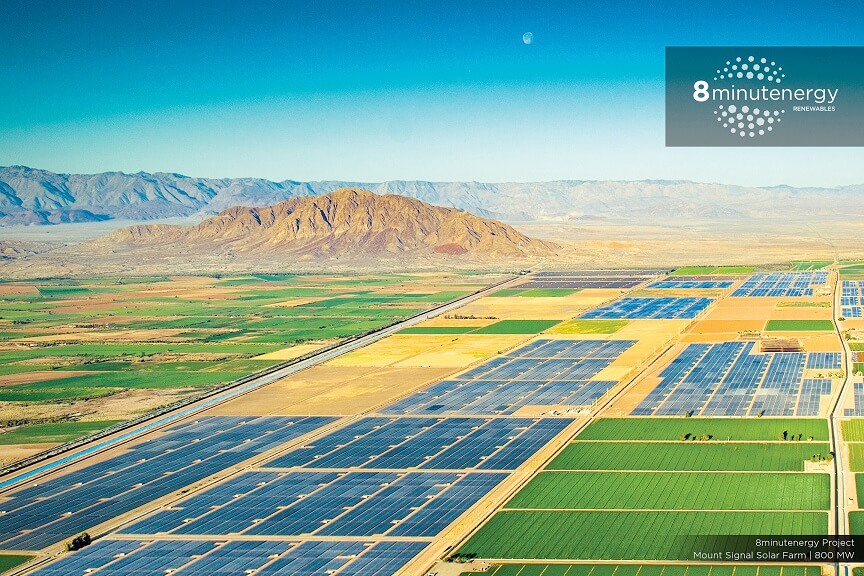 Independent solar developer 8minutenergy Renewables LLC has energized phases one and two of the 328 MW DC Mount Signal 3 (MS3) solar PV project, located in the city of Calexico in California's Imperial Valley.
The project is part of the 800 MW Mount Signal Solar Farm. 8minutenergy expects to bring the rest of MS3 to commercial operations by the end of this year.
"We're proud to hit this exciting phase of the Mount Signal solar cluster – one of the largest in the world. This project is important to the Imperial Valley's future, given the amount of abundant and reliable solar power that will be delivered to the region for decades to come," says Martin Hermann, CEO and co-founder of 8minutenergy. "As the original developer of the 260 MW Mount Signal 1 project, we are thrilled to see the next project coming to fruition."
Less than a year ago, Capital Dynamics acquired MS3's equity interests in the project from 8minutenergy, which is continuing as the developer.
Mortenson Construction is providing the engineering, procurement, and construction contracting. First Solar supplied 2.8 million Series 4 thin-film solar panels, and NEXTracker supplied its NX Horizon smart solar tracker. Southern California Edison and 8minutenergy signed a long-term power purchase agreement for the project's clean energy in 2014.
"All of our dedicated partners have been invaluable in ensuring this important project will be completed on time," notes 8minutenergy's president and co-founder, Tom Buttgenbach. "We would like to thank Imperial County's board of supervisors and the entire staff of the county administration, all of whom have been continuously supportive during the construction of this project. We send additional thanks to the local community, environmental groups and an outstanding local workforce for enabling us to build Mount Signal 3 ahead of schedule and in an environmentally friendly manner."
Once complete, MS3 will deliver over 770 million kWh of renewable power to residents of the 15 surrounding counties each year – enough energy to power more than 114,000 homes and reduce carbon emissions by more than 530,000 metric tons each year. The project is being built on 2,000 acres of formerly low-productivity farmland, and its creation will significantly reduce water usage in the region, as well as protect wildlife habitat during construction and operation, the developer says. Mount Signal 3's development and construction is also creating over 600 jobs in the region.