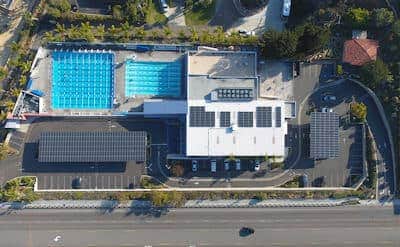 Baker Electric Solar, a full-service solar company, recently designed and installed a 164 kW solar system for the Boys & Girls Clubs of San Dieguito's (BGCSD) Solana Beach, Calif., location.
Over the first year, the nonprofit is expected to see about 30% savings on its annual electricity spend based on past consumption – saving an estimated $11,000. Over the BGCSD's 25-year power purchase agreement (PPA) warrantied period with Baker, cumulative electricity savings are projected to be approximately $1.3 million. Baker used a rooftop-carport configuration for the solar system.
Founded in 1966, the BGCSD is a nonprofit community group that aims to provide positive activities, personal development and after-school programs to advance the education, health, self-esteem and character of youth.
"With electricity being one of our largest expenditures, the solar system will save us money, helping us keep the doors open and serving more than 6,000 registered members," says BGCSD CEO Marineke Vandervort. "We want to lead by example. Adding solar demonstrates our investment in eco-technology – reducing our environmental footprint while educating our members about the benefits of renewable energy."
"Going solar is helping nonprofit organizations all over Southern California reduce their environmental impact and improve their bottom line at the same time," says Scott Williams, Baker's director of commercial solar. "The BGCSD solar system's $1.3 million cumulative savings will go far toward assuring the clubs' mission continues to thrive over the next 25 years."