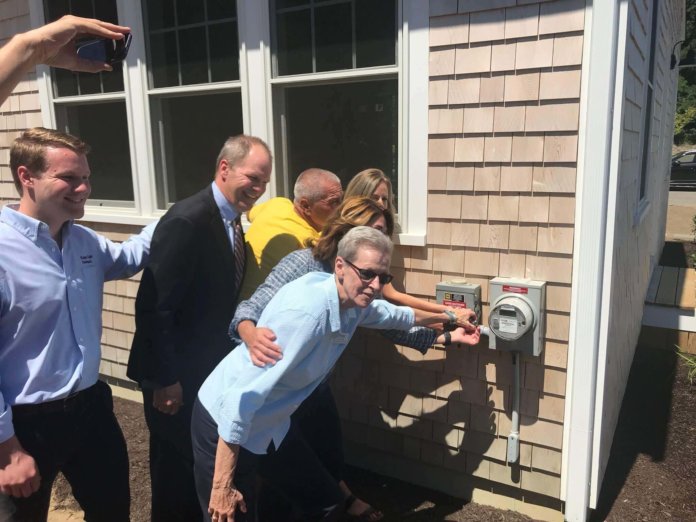 At a ribbon-cutting ceremony today, Massachusetts' Baker-Polito administration celebrated the completion of six solar photovoltaic systems on newly constructed homes for low-income residents by Habitat for Humanity Cape Cod.
The initiative was funded by a $250,000 grant awarded to Cape Light Compact, which supported an additional nine solar projects across Cape Cod.
"Providing support for these projects demonstrates our administration's steadfast commitment to ensuring that all residents, regardless of income, have access to affordable clean energy technologies," says Massachusetts Gov. Charlie Baker. "By forming meaningful relationships between our state agencies and nonprofits, Massachusetts is bolstering its nation-leading efforts to alleviate hurdles to renewable energy for low-income residents."
"These projects will help reduce energy bills for low-income homeowners while expanding the commonwealth's vibrant clean energy economy," adds Lieutenant Gov. Karyn Polito. "By expanding access to clean energy technologies to more residents, we can both grow the state's renewable energy portfolio and help low-income families access cost-cutting technologies."
The grant, awarded by the Massachusetts Clean Energy Center (MassCEC) and the Massachusetts Department of Energy Resources, is part of the Baker-Polito administration's $15 million Affordable Access to Clean and Efficient Energy (AACEE) initiative.
Solar arrays were added to six Paul Hush Way, Brewster homes recently constructed by Habitat for Humanity Cape Cod, which aimed to reduce the overall energy burden for low- to moderate-income residents while lowering their energy bills. Cape Light Compact will place the solar renewable energy credits generated from the systems into a revolving loan fund to finance an additional six to 10 solar systems on low-income homes across Cape Cod.
"Cost remains a persistent barrier for low-income families seeking to adopt efficient, cost-cutting clean energy technologies," says Stephen Pike, CEO of MassCEC. "By embracing innovative financing models, the commonwealth is exploring opportunities to address these hurdles and increase access to clean energy technologies for residents across the state."
"Today's ribbon-cutting ceremony is a celebration of two important efforts coming together to help low-income families," adds State Sen. Julian Cyr, D-Truro. "Not only will families get the opportunity to live in a new house that they helped build, they will also have cost-effective renewable energy due to MassCEC's grant to Cape Light Compact to install solar panels on all the homes. The housing complex on Brewster's Paul Hush Way will certainly go a long way to help new homeowners build a better life for themselves and their families on the Lower Cape."
MassCEC is funded by the Renewable Energy Trust, which was created by the Massachusetts legislature in 1998. A systems benefit charge paid by customers of investor-owned utilities and five municipal electric departments that have opted into the program funds the trust.