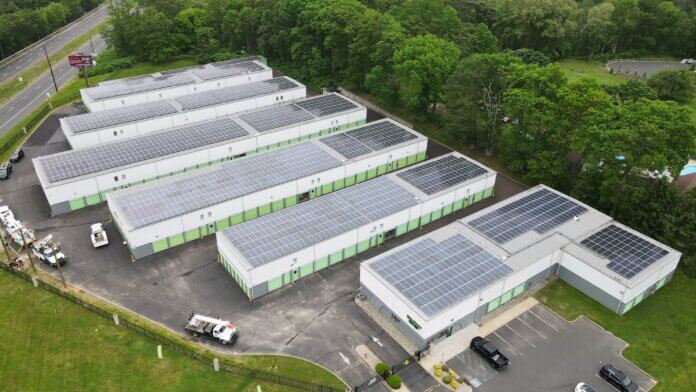 Extra Space Storage and Solar Landscape, a New Jersey community solar owner and operator, has connected the first of its community solar projects to the grid in Neptune, N.J.
It marks the second of 46 projects in the state approved by the New Jersey Board of Public Utilities (NJBPU) in Year 2 of the Community Solar Energy Pilot Program.
"I'm thrilled to see the swift rollout of the Community Solar Program continue, especially locally," says New Jersey State Sen. Vin Gopal, D-Monmouth. "The activation of this project will extend solar access to Monmouth County residents who would otherwise be unable to benefit from clean energy, while also making crucial progress toward achieving New Jersey's clean energy goals. Thank you to Solar Landscape, and everyone who worked to bring this project to fruition."
The project is located on an Extra Space Storage facility, one of 10 New Jersey sites owned by the national self-storage company that is hosting community solar projects with Solar Landscape.
"We're proud to serve the communities where we do business in more ways than one," states McKall Morris, communications and sustainability manager for Extra Space Storage. "By meeting customers' self-storage needs while also powering nearby homes, our facilities show how we can do right by our customers, our communities, and the environment."
Residents in Neptune City, Neptune Township, Asbury Park City, Avon-by-the-Sea, Belmar Boro, Bradley Beach Boro, Ocean Township, Tinton Falls and Wall Township can subscribe to use solar energy generated on the Extra Space Storage facility rooftop at a guaranteed discount. New Jerseyans in hundreds of other towns across the state can also sign up to receive lower-cost solar energy soon from one of Solar Landscape's 45 other community solar projects.
"We look forward to welcoming even more residents to community solar, and it's especially gratifying when those residents are in our neighborhood," comments Shaun Keegan, CEO of Solar Landscape. "With the support of a commercial real estate leader like Extra Storage Space, we can provide cost-saving solar power to residents, many of whom thought they'd never be able to use solar energy. Just a year ago, we received approval on this project and now it's providing a valuable benefit to the residents here; we look forward to energizing even more projects very soon."
Extra Space Storage's New Jersey community solar projects will generate 6.5 MW of renewable energy. In its first year, the portfolio is projected to generate 7,460,646 kwH of energy for residents.
The active Neptune community solar site, which will generate approximately 500 kilowatts of energy, was approved by the NJBPU just over a year ago and is now providing solar energy to nearby residents.