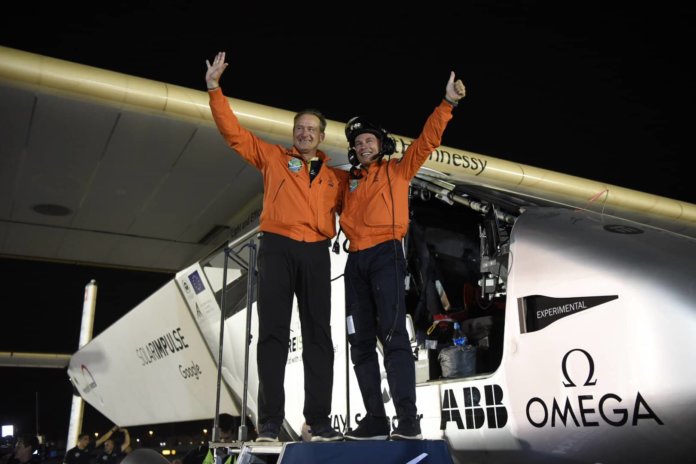 History was made on Tuesday when the Solar Impulse 2 aircraft completed the first round-the-world solar-powered flight. The plane landed at 04:05 a.m. local time in Abu Dhabi, where it first started its journey back in March 2015, after the trip's final leg of more than 48 hours from Cairo.
The Solar Impulse project was founded and run by Swiss pilots Bertrand Piccard and André Borschberg. The multi-stage trip around the world covered over 40,000 km (approximately 25,000 miles) and was accomplished using no fuel but the sun.
Solar Impulse 2 featured more than 17,000 SunPower solar cells and several energy storage batteries. According to project partner ABB, the plane made stopovers on four continents (Asia, North America, Europe and Africa) and flew across two oceans (the Pacific and the Atlantic), as well as the Mediterranean Sea and the Arabian Peninsula.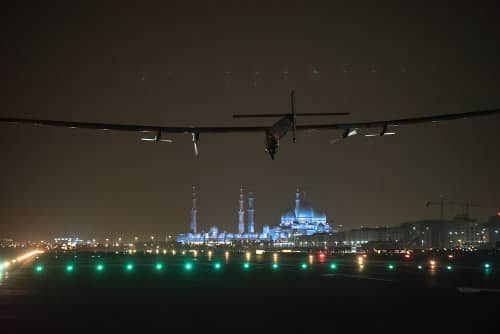 On the way, ABB adds, the plane set several new aviation records, including that of the longest solo duration for an airplane (117 hours, 52 minutes) achieved by Borschberg on the leg from Japan to Hawaii and the first crossing of the Atlantic Ocean in a solar airplane achieved by Piccard.
Although the Solar Impulse team planned to complete the global trip last year, the mission had several setbacks, including some weather delays; however, the biggest holdup was when Solar Impulse 2 was grounded in July 2015 for about 10 months to repair severe battery damage suffered when crossing the Pacific Ocean.
Now that the historic journey has finally been completed, Piccard says, "It's a historic first for renewable energy and clean technologies, not only for aviation."
Ulrich Spiesshofer, CEO of ABB, comments, "This is a truly historic achievement, with tremendous symbolic significance. It demonstrates clearly that with pioneering spirit and clean technologies, we can run the world without consuming the earth."
Adnan Z. Amin, director-general of the International Renewable Energy Agency (IRENA), says, "This remarkable accomplishment is a clear signal that the age of renewable power is here to stay."
"Solar Impulse has raised awareness about the promise of renewables, showing that they can provide sustainable, reliable energy," continues Amin. "It has also pushed technological boundaries forward and is a testament to the importance of innovation and international cooperation in realizing a sustainable energy future. For this, Solar Impulse pilots Bertrand Piccard and André Borschberg now join the elite club of pioneering aviators."
Photos courtesy of Solar Impulse