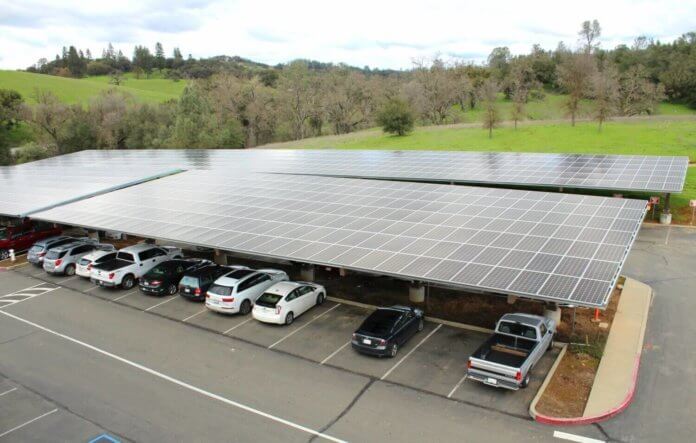 Jackson, Calif.-based Sutter Amador Hospital has flipped the switch on an on-site solar system that will provide more than half of the electrical power needs for the medical campus.
The solar project is part of Sutter Health's ongoing efforts to provide a cleaner energy source at its hospitals and medical office buildings.
ENGIE Services U.S. installed 1.58 MW of solar power on parking structures and rooftops at Sutter Amador Hospital. The system will generate 2.4 million kWh of renewable power per year, reducing the hospital's greenhouse-gas emissions by an estimated 1,762 metric tons annually. The clean energy produced is the equivalent of powering 211 homes for a year.
"Sutter Health and Sutter Amador Hospital have been looking for ways to continue our mission of superior health services to the community while, at the same time, contributing to a healthier environment," says Stephen Lockhart, M.D., Sutter Health's chief medical officer and executive sponsor of Sutter Health's environmental stewardship program.
The energy savings will be redirected to resources that directly impact patient care and other mission-critical needs, Lockhart says. In addition, the new parking canopy systems will provide shaded parking for vehicles.
The project is the second of six Sutter Health locations throughout Northern California that are part of a pilot program to reduce the use of fossil fuels for power generation.
"Sutter Amador Hospital is proud to be a model hospital by generating more than half of its electricity by using this renewable, clean energy source," says Sutter Amador Hospital's CEO, Tom Dickson. "With our new solar program, Sutter Amador Hospital has accomplished using energy generated by the sun – a renewable source – while at the same time, reducing harmful emissions and improving on-site energy resiliency and independence. It's a win-win for everyone."
Sutter Health has also locked in a favorable rate for 20 years, hedging against the risk of fluctuating energy prices in the future. The project was installed through a power purchase agreement financing structure.
ENGIE completed construction of the project in six months. The company will also provide ongoing operations and maintenance.