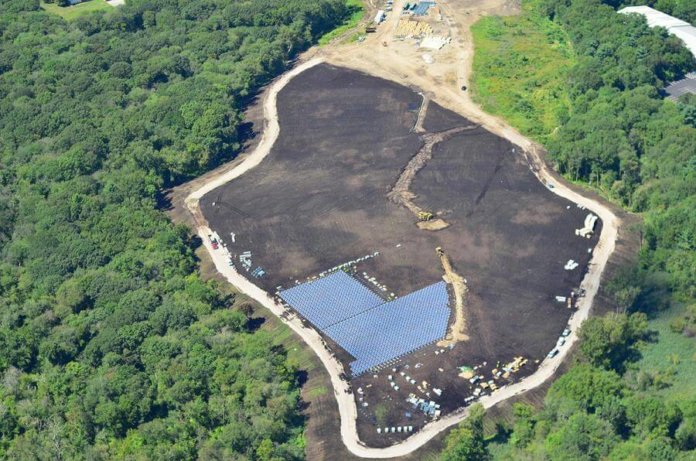 The Forbes Street Solar Project II (FSSPII) has been completed on a former landfill in East Providence, R.I.
Today, project developers Hecate Energy and CME Energy held a ribbon-cutting ceremony to mark the opening of the project.
FSSPII is the second of two projects the developers have jointly completed at the site. Like the first project, FSSPII is capable of generating 3 MW of energy. It is expected to produce approximately 5,350 MWh of electricity annually, enough to serve nearly 500 Rhode Island households.
"By repurposing a closed landfill to generate clean energy, the Forbes Street Solar Project is a smart use of space and serves as an example for others to follow," notes Carol Grant, Rhode Island's energy commissioner. "This project will contribute to the governor's goal to grow Rhode Island's clean energy supply tenfold – to 1,000 MW – by 2020 and help us to further reduce our state's greenhouse-gas emissions."
The first project, completed in December 2013, serves customers of Narragansett Electric Co., a subsidiary of National Grid. It was built on a capped parcel of land that served as the city's landfill until 1979. Repurposing the site for a productive use was the impetus behind the developers' initial involvement, the companies say.
"Hecate Energy is proud to bring its cutting-edge energy expertise to another pioneering solar project that supplies clean, renewable energy to East Providence and Rhode Island consumers," says Preston Schultz, a director of development with Hecate Energy. "These are the types of energy solutions we need to solve our mounting energy and environmental challenges. This project builds on the successful portfolio of similar solutions-based solar projects Hecate is advancing across the country."
"CME is proud to partner with Hecate in creating another leading-edge renewable energy project that optimizes the issues it addresses," adds William Martin, president of CME Energy. "FSSPII creates a new source of clean energy for consumers, utilizes property that has few other productive uses, creates new revenue streams for the city and helps protect our planet."