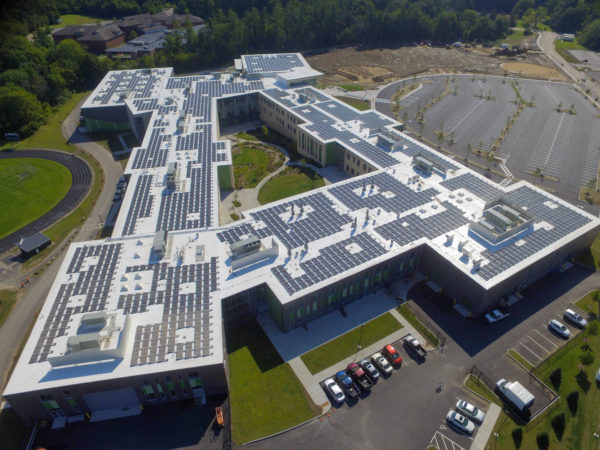 ReVision Energy has installed a 912 kW project at the Dover High School and Career Technical Center in Dover, N.H.
The solar array, which has a useful lifespan of 40 years, will generate over 1,000 MWh of electricity each year, offsetting roughly 40% of the school's electric load.
The rooftop project, which includes 2,581 solar panels, increases New Hampshire's solar capacity by 1.5%. Further, with no upfront cost, the installation is expected to save Dover taxpayers more than $4 million long term, says ReVision.
The project was financed through a power purchase agreement (PPA), which enables the city to purchase electricity at below-market rates and includes a purchase option that becomes available in year 10 of the agreement.
Investor partner Kenyon Energy owns the project and will sell the electricity to the city at a negotiated rate. The renewable energy credits generated by the array will be sold by Kenyon Energy into environmental compliance markets for the term of the PPA. Ongoing operations and maintenance of the project will be managed by Bay4 Energy.
ReVision's agreement with the City of Dover includes an educational initiative aimed at teaching students how solar energy works and exposing them to the functions involved in the engineering, electrical and marketing aspects of the project.