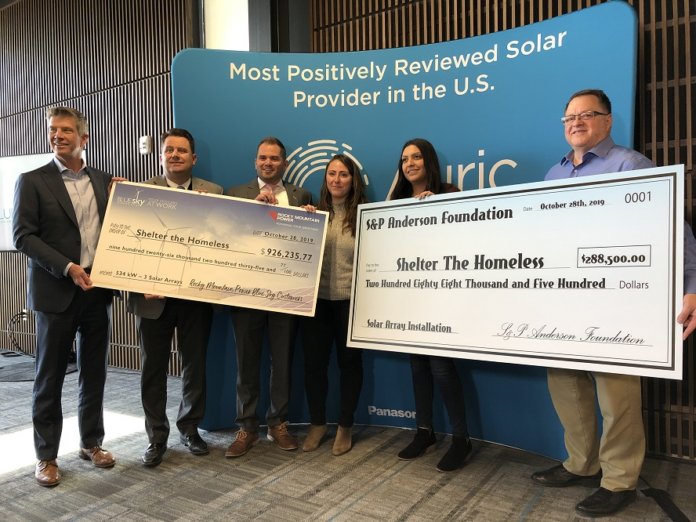 A collaborative effort between Rocky Mountain Power (RMP) and Auric Energy will result in an estimated $4 million in savings for three new Homeless Resource Centers in Salt Lake Valley, Utah, over the next 30 years.
Solar installations will offset roughly half of the energy used by the three facilities, allowing more money to support programs within the centers, which provide emergency shelter for up to 700 individuals nightly.
In celebration of the Men's Homeless Resource Center completion, RMP's Blue Sky program presented the three facilities with $926,235. Blue Sky provides a way for RMP customers to support the development of renewable energy resources in the Western U.S. Blue Sky renewable energy is separate from, and in addition to, what RMP buys or generates to serve its customers. RMP currently has more than 50,000 Blue Sky customers throughout Wyoming, Idaho and Utah.
The S&P Andersen Foundation donated an additional $288,500. Auric Energy, a local solar company, provided engineering and installation services as an in-kind donation to the project.
"Because of the generous donations of time and resources from our employees and partners, Auric was able to help give the gift of solar to those that need it most," says Courtney Leishman, director of commercial solar at Auric. "These 1,582 solar panels will result in an estimated $4 million in savings over the next 30 years."
Since 2006, Blue Sky customers have voluntarily supported wind and solar energy generation in the region. Blue Sky has provided more than $11 million in funding to community-based renewable energy projects.
"Combined, this grant is the largest in more than 15 years, and it could not have been possible without the individuals, businesses and communities that voluntarily participate in the Blue Sky program," says Gary Hoogeveen, RMP's president and CEO.