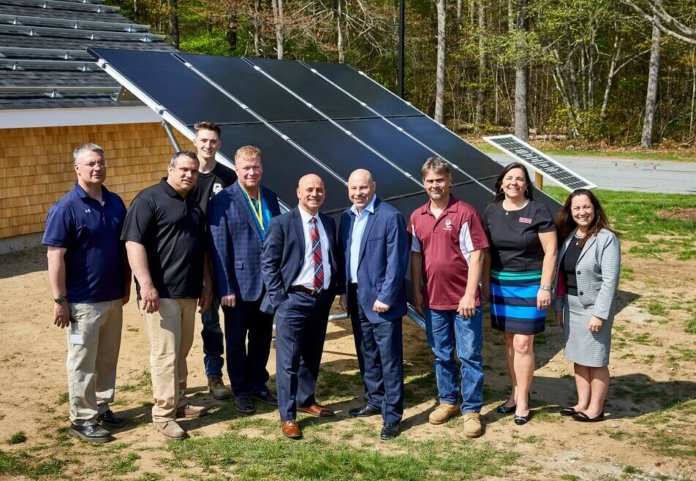 A new solar training program has been launched at Old Colony Regional Vocational Technical High School in Rochester, Ma. Unveiled on May 10 at a ribbon-cutting by Jim Peyser, Massachusetts' secretary of education, the program is intended to train future solar professionals in the Northeast.
The high school received a grant from the Massachusetts Workforce Skills Capital Grant Program, as well as racking structures and modules to give students direct experience with solar technology. OMCO Solar donated 15 feet of Field-Fast fixed-tilt racking, and Cypress Creek Renewables gave 12 SF-165 solar modules made by Solar Frontier.
Before the official launch celebrating the solar training program, students at Old Colony High School assembled a large section of Field-Fast racking on the school's campus with supervision by John Reed, manager of engineering for OMCO Solar. The technology will be used throughout the year to educate and train students enrolled in the upcoming solar program.
Eric Goodwin, director of business development for OMCO Solar, says, "OMCO Solar believes the availability of solar curriculum at the vocational level is vital. It offers students firsthand experience with the latest solar tech and exposes them to new avenues in career exploration. OMCO is committed to showing students the many paths available in renewable careers. Aside from donating Field-Fast racks for the solar training program and sharing our industry knowledge with the teaching and administrative staff, OMCO will continue to have an extended partnership with Old Colony to participate in other student programs in the future."
Instructors at Old Colony Regional Vocational Technical High School who are spearheading the new program are Ed Cabral, Gary LeBeau and Larry Medeiros. Principal Karen J. Guenette and Assistant Vice Principal Jackie Machamer worked with OMCO to bring the program to Massachusetts. The Massachusetts Clean Energy Center is also actively aiding current and future graduates by placing them in internships with solar companies throughout the state.