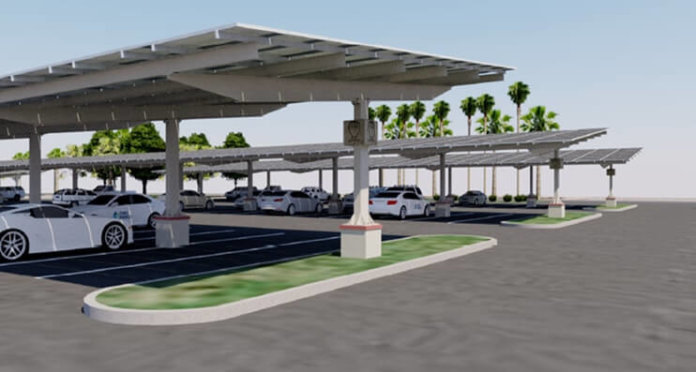 The St. Petersburg City Council in Florida recently authorized Mayor Rick Kriseman to execute a lease with Duke Energy Florida for a solar PV car canopy on a portion of the city's Pelican Parking Lot, located in the Pier District.
Duke will pay for and own the system and will also be responsible for the design, permitting, construction and maintenance for the life of the project.
The solar project, with an estimated cost of $2 million, will produce between 400 kW and 650 kW of energy. In addition, the project is expected reduce greenhouse-gas emissions by at least 400 metric tons per year.
"The city appreciates the opportunity to collaborate with Duke Energy in providing renewable energy within the city limits," says Sharon Wright, the city's sustainability and resiliency director. "This process has taught us a lot, and we look forward to building on the wins with our energy provider to lead the region in its transition to 100 percent clean energy."
"We believe in solar technology and are committed to advancing the use of solar energy in Florida," adds Ana Gibbs, a spokesperson for Duke Energy Florida. "We look forward to working collaboratively with the City of St. Petersburg and other municipalities on meeting their clean energy and sustainability goals."
The project will also include shaded parking for approximately 100 spaces in the lot. Other considerations include battery backup and electric vehicle charging.