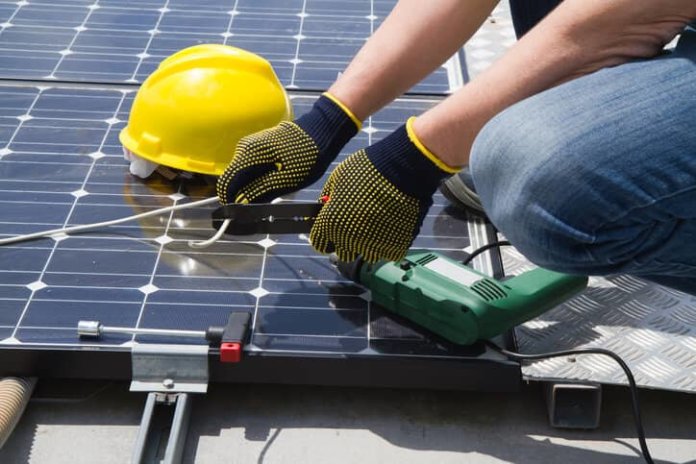 The U.S. experienced historic solar jobs growth last year, but the meteoric rise of the solar industry has also highlighted the necessity and benefits of workforce training. According to a new research study released by nonprofit The Solar Foundation, two-thirds of U.S. solar installation firms report that difficulty finding qualified applicants is increasing costs and impacting their ability to grow. The report also shows that increased investment in post-hire training could reduce labor costs and save the industry more than $10 million annually.
The Solar Foundation says the study, titled "Solar Training and Hiring Insights 2017," aims to increase understanding of U.S. solar training, hiring practices, and market trends to help the industry make better, more informed decisions. The report aggregates and analyzes data from several research efforts, including an extensive survey of more than 400 solar installers; in-depth case studies of 10 solar installation firms; interviews with dozens of solar employers, trainers and workforce development boards; and The Solar Foundation's National Solar Jobs Census series.
One key finding is that 65% of solar employers reported that difficulty finding qualified workers led to increased costs, while 68% said it impacts their ability to grow. And 39% said the recruitment costs and opportunity costs of delayed hiring amounted to more than $10,000 on average for each open position.
The report also shows that companies that invest more in post-hire training had lower installation labor costs on average. With continued and expanded investments in training, companies have the potential for increased labor efficiencies and decreased callbacks (i.e., returning to job sites to re-install or correct site errors) that could save the solar industry more than $10 million annually, the report shows.
"With more than 51,000 new solar jobs in the United States in 2016 alone, employers are facing the challenge of hiring qualified candidates to fill open positions," says Andrea Luecke, president and executive director of The Solar Foundation. "Our research finds that making strategic investments in training can help the industry save millions of dollars and ultimately pass the reduced costs on to consumers."
The report also provides a state-by-state index that helps decision makers predict which states are most likely to experience shortages of qualified solar workers (see map below). These states are the most likely to need additional resources for training and workforce development in the coming years, according to the report.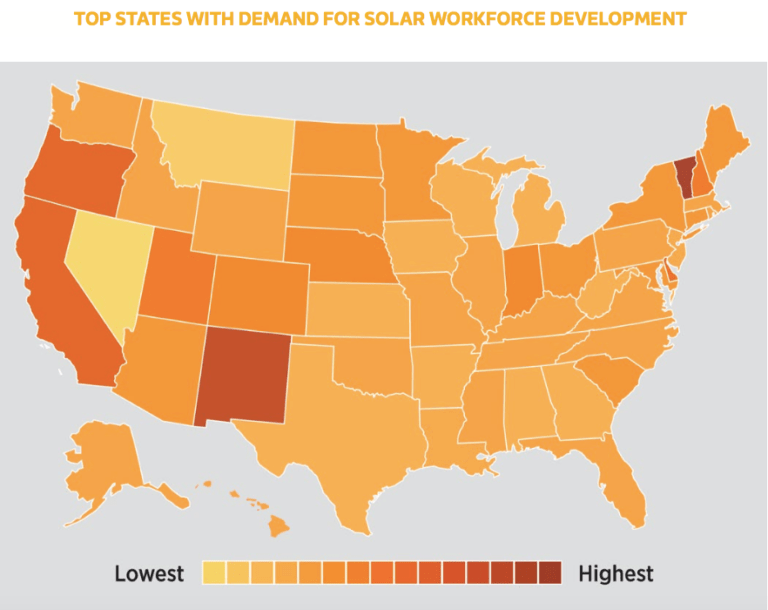 Other key findings in the report include the following:
– Employers are not seeing enough applicants, with 50% of all firms nationally reporting deficient numbers of applicants;
– Employers are having the most difficult time finding candidates with adequate soft skills, as well as some form of hands-on electrical, roofing, or construction experience;
– When qualified applicants do join the solar industry as entry-level solar installers, there are staggering opportunities for rapid advancement and pay raises, largely due to the insufficient applicant pool. In an in-depth case study examining several major solar installers, entry-level installers were typically promoted at least once within 6-12 months, and saw an average increase in pay of 45% after promotion.
This new report comes shortly after The Solar Training Network, a program funded by the U.S. Department of Energy's SunShot Initiative and administered by nonprofit The Solar Foundation, launched an online solar career platform designed to match job candidates with training and career opportunities in the solar workforce. The platform is available at SolarTrainingUSA.org, and the full report is available here.