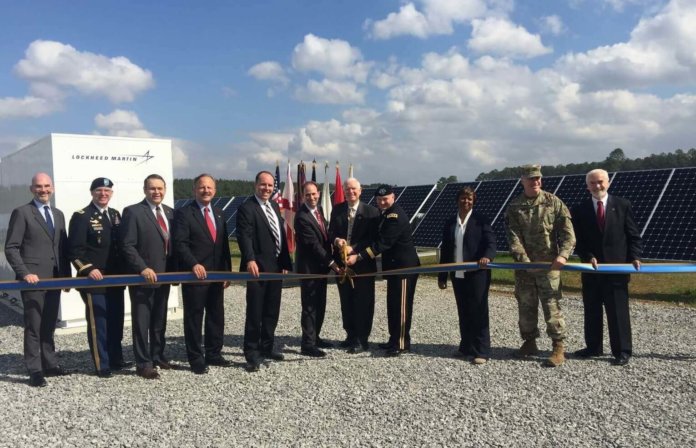 SunPower Corp. has announced the operations of a 10 MW solar PV and 1 MW energy storage system at the U.S. Army's Redstone Arsenal in Alabama.
The solar-plus-storage project was designed and built by SunPower, which will also operate and maintain the facility. The Army is purchasing 100% of the electricity generated by the project through a 27-year power purchase agreement (PPA) at rates competitive with traditional energy sources, according to SunPower.
Financing for the project was provided by Birmingham, Ala.-based Regions Bank, eliminating the need for capital expenditure by the Army. Cornerstone Financial Advisors LLC served as financial advisor to Regions Bank on the transaction.
This project is a collaboration between the U.S. Army Office of Energy Initiatives, Redstone Arsenal, the U.S. Army Corps of Engineers and SunPower. Featuring a SunPower Oasis power plant system, the project is paired with storage to reduce peak power-related demand charges for Redstone Arsenal.
"Through innovative collaboration between the Army, Team Redstone and industry partners, we've cost-effectively built a reliable, homegrown renewable energy project that is expected to deliver savings for decades, allowing us to invest more resources in protecting the nation and those we serve," states Lt. Gen. Edward M. Daly, senior commander at Redstone Arsenal.
SunPower says it has deployed solar at military facilities nationwide, including more than 28 MW at Nellis Air Force Base in Nevada, 13.78 MW at Naval Air Weapons Station China Lake and 28 MW at Vandenberg Air Force Base in California, and 5.6 MW at the Air Force Academy in Colorado Springs.
"Demand for solar-and-storage technology continues to rise, delivering significant savings to customers with high electricity demand, like the U.S. military," says Nam Nguyen, SunPower's executive vice president. "We congratulate the Army and Redstone Arsenal for seeing the value in a resilient energy project from SunPower that will help lower operational costs and free up more funds to support their mission."