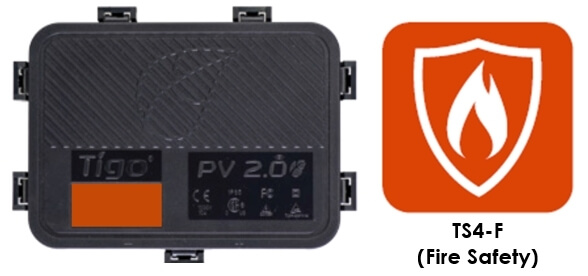 Tigo announced that its new TS4-F (Fire Safety) has joined the current TS4 platform of integrated and retrofit/add-on junction box covers. As the most cost-effective rapid shutdown solution in the TS4 platform, the TS4-F will accompany the family of products in the form of integrated PV modules by manufacturers worldwide, according to the company.
As part of the TS4 platform, the TS4-F utilizes the Ultra-High Definition Core (UHD-Core) and supports any PV module up to 475 W with voltage up to 90 V and current up to 12 A, according to Tigo. Furthermore, the company says the TS4-F supports the SunSpec Alliance signaling specification with powerline communication (PLC) and will work with any SunSpec-compliant rapid shutdown initiator. Tigo tested compatibility with multiple inverter suppliers – including SMA – and will continue to expand its compliant inverter portfolio.
"TS4-F was developed to offer our customers the first patent-protected MLPE in the market that supports SunSpec Alliance signaling specifications," says Zvi Alon, CEO at Tigo. "For PV system owners who wish to address only the mandatory shutdown needs and do not require optimization or monitoring, the TS4-F provides a certified, cost-effective rapid shutdown solution with all the safety features of the TS4 Platform."
What's the difference between TS4-F (Fire Safety) and TS4-S (Safety)?
Tigo's TS4-F and TS4-S are both rapid shutdown devices; however, the company notes TS4-F is a PLC SunSpec-compliant signaling and TS4-S uses wireless signaling. TS4-F requires an initiator to comply with the rapid shutdown requirements while TS4-S uses Tigo's CCA and Gateway to transmit a rapid shutdown signal. TS4-F cost-effectively targets rapid shutdown while TS4-S includes module-level monitoring with rapid shutdown. Both TS4-F and TS4-S are patent-protected.
Tigo says the TS4-F is ready to ship as an integrated solution with module manufacturers worldwide, and the company says interested customers can consult their preferred PV module suppliers or visit Tigo's website for the new "integrated TS4-F" or "retrofit/add-on TS4-R-F."