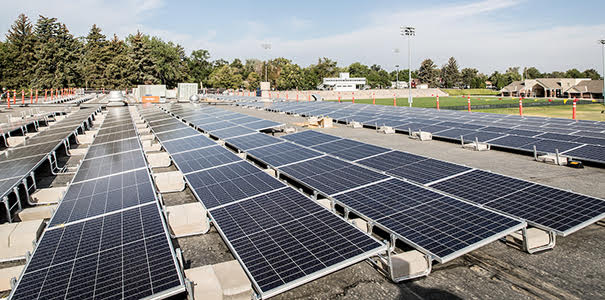 McKinstry, a national construction and energy services company, has installed a new solar project at the University of Northern Colorado (UNC) campus.
The Colorado Department of Public Health and Environment funded the 172 kW array through its Supplemental Environmental Projects Program.
Located on the roof of Parsons Hall near Jackson Field, the project is expected to produce 4.7 million kWh of electricity and save the university an estimated $176,500 over the expected life of the system. McKinstry is also delivering an interactive dashboard later this fall for tracking solar performance metrics.
The solar project is the latest partnership between UNC and McKinstry. Since 2016, McKinstry has performed $8.9 million of energy-saving projects and other upgrades on the UNC campus, helping the university save more than $500,000 in annual utility costs and reduce carbon emissions by 5,790 metric tons.
"Student expectations for sustainability and renewable energy initiatives are higher than ever, making solar PV arrays like the one installed at UNC an important part of the campus experience," says Leslie Larocque, vice president of McKinstry's mountain regions. "McKinstry designed and delivered the UNC solar PV array to demonstrate how advanced energy systems and efficiency upgrades can generate both educational and sustainability benefits while also driving financial returns for universities."