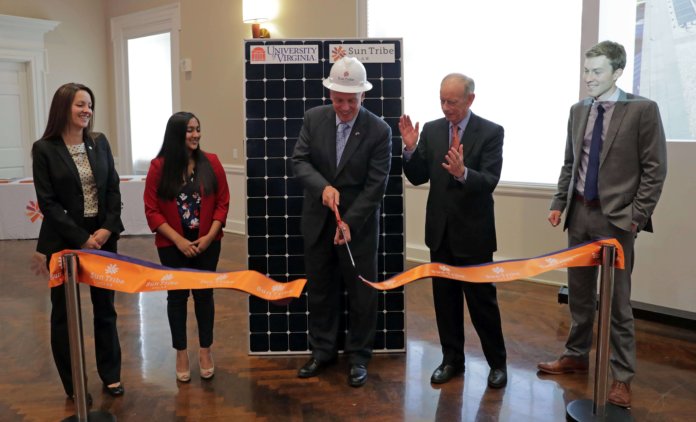 On Tuesday, Gov. Terry McAuliffe, D-Va., attended a ribbon-cutting ceremony to mark completion of a solar project at the University of Virginia (UVA).
According to an announcement, the 324-panel system covers more than 7,500 square feet atop UVA's Clemons Library and is estimated to produce almost 200,000 kWh annually, enough to power approximately 15 U.S. homes and offset the equivalent of 93 metric tons of carbon dioxide per year.
"UVA's historic investment proves that solar technology is achievable, affordable and here to stay," said McAuliffe. "This project turns Clemons Library into a living laboratory, allowing students to see first-hand how green energy is changing the way we live and work. The lessons they're learning will help grow the new Virginia economy for generations to come."
Students are studying the factors behind the selection of the Clemons Library site as part of an engineering class. By analyzing the potential of other roofs on campus, they hope to accelerate the adoption of solar at the university and beyond.
"The University of Virginia is committed to sustainability, and we have developed a plan that will enable us to achieve our goal of reducing university-wide greenhouse-gas emissions to 25 percent below 2009 levels by 2025," said Patrick D. Hogan, executive vice president and chief operating officer at UVA. "With the addition of the solar panel system on the roof of Clemons Library, we increase our renewable energy production on the university's grounds and provide opportunities for our students to study renewable energy technology and teach our students to consider their impact on the world."
"It was an honor to work with the University of Virginia on their new solar facility atop Clemons Library and to help the university continue moving forward on their sustainability goals," said Taylor Brown, co-founder of Sun Tribe Solar, which built the new solar installation. "The rapid growth of the solar market in Virginia is a real testament to Governor McAuliffe's leadership in expanding the commonwealth's commitment to clean energy."
The announcement says that, since McAuliffe took office, Virginia's solar capacity has grown from 17 MW to more than 1,575 MW of solar currently in service or under development in the state. In the last year alone, the number of solar jobs in Virginia has skyrocketed by 65%, from 1,963 to 3,236, making Virginia one of the fastest-growing solar job markets in the nation.