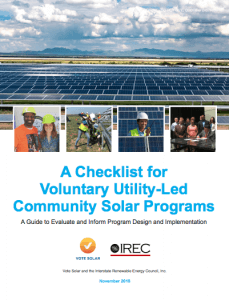 Two national nonprofit organizations, the Interstate Renewable Energy Council (IREC) and Vote Solar, have launched a checklist intended to help regulators and interested stakeholders evaluate and improve voluntary community solar across the country.
The groups say they developed the checklist to promote scalable and replicable community solar programs that benefit customers and communities.
"Americans everywhere want more clean energy, and community solar is critical to meet that growing demand," says Marta Tomic, community solar program director at Vote Solar. "There are proven paths to success when it comes to developing robust community solar programs, and we urge regulators, utilities and other stakeholders to use this checklist as a resource to create low-cost consumer-centric offerings that actually give customers the solar offering they want."
"As more utility-led programs are developed and refined, and as regulators are tasked with reviewing and approving such programs, this checklist provides a useful reference to guide successful community solar programs that benefit customers," adds Sara Baldwin Auck, IREC's regulatory program director.