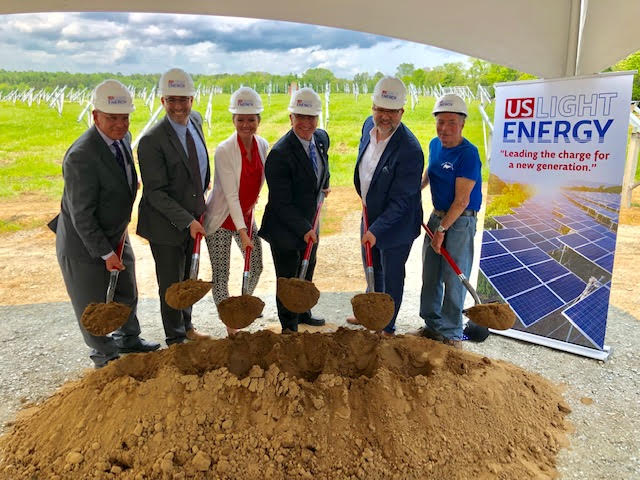 Latham, N.Y.-based US Light Energy (USLE) has begun construction of its latest community solar project.
The 7 MW Sugar Hill Solar Farm, to be located on 40 acres of land on the Sugar-Hill / Sugar-View Farm, will be the first community solar farm developed in Clifton Park, N.Y., says USLE.
The ground-mounted project will encompass nearly 20,000 solar modules. When fully operational later this year, it is expected to produce more than 8.6 million kWh of clean energy annually – enough to power up to 600 homes and businesses. Standard Solar will own and operate the project.
"This project is the perfect first step in building our New York portfolio of community solar projects," says Scott Wiater, president and CEO of Standard Solar. "We believe community solar is the future of the industry, and US Light Energy is leading the way in developing innovative projects. We congratulate them and the state of New York on this momentous occasion."
Electricity generated at the Sugar Hill Solar Farm will be supplied to customers anywhere in National Grid's existing distribution system. Subscribers are expected to save 10% on their electricity bills. Residential and commercial properties in Clifton Park will have 30 days to subscribe before the solar generated by the project is opened to the general public.
"We are thrilled to begin construction of Clifton Park's first community solar farm, which will produce clean, renewable energy that saves money for customers and reduces our carbon footprint," says Mark Richardson, president and CEO of USLE. "With the support of leaders in town government, elected representatives on the state and federal levels, and our partners in energy delivery and advocacy, we look forward to harnessing the power of the sun to positively impact our energy, economic and environmental futures."
"We're excited to partner with USLE to help homeowners, renters and businesses in the Clifton Park area save on their energy costs and lower emissions," adds Richard Keiser, founder and CEO of Common Energy, USLE's customer acquisition partner. "By supporting these projects, the entire community benefits."
The solar farm will also enable a previously underused property to become a new source of landowner revenue.
The project received over $1.6 million in funding from Gov. Andrew M. Cuomo's NY-Sun initiative, administered by the New York State Energy Research and Development Authority.