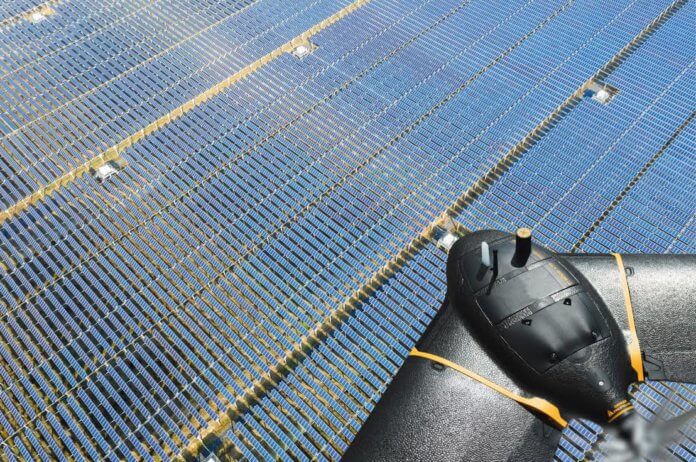 senseFly, a provider of fixed-wing drone solutions, has introduced its new senseFly Solar 360.
Created in collaboration with software company Raptor Maps, the new offering is a thermal drone solution that enables the automatic assessment of solar plant performance at a sub-module level, according to the partners.
The aircraft combines senseFly's eBee X fixed-wing drone and Duet T thermal mapping camera with Raptor Maps' software.
Gilles Labossière, CEO of senseFly, says Raptor Maps' software "takes the guesswork out of solar farm inspection and, crucially, speeds up this process – from days down to hours."
"This efficiency, combined with the eBee X's large coverage and reliability, ensures that farm owners and operators — or the drone service providers they employ — can inspect utility-scale solar farms more quickly, easily and accurately than ever before."
Nikhil Vadhavkar, CEO of Raptor Maps, notes that its software has already been used for the inspection of 25 million solar panels on six continents in an effort to "increase power production and reduce risk and maintenance cost across solar portfolios."
According to the partners, users can inspect solar installations of up to 150 MW in a single day (based on five 70-minute eBee X flights at 42 meters [138 feet] above ground level). This enhances operational efficiency by up to 300 times versus ground inspections with a handheld thermographic sensor.
The eBee X drone captures both radiometric thermal and visual RGB imagery. The Raptor Maps software then generates a detailed inspection report, using the imagery to identify, classify and localize anomalies automatically.
The solution is supplied with the customer's choice of data pack, available in 50 MW, 100 MW and 200 MW variants, depending on the output capacity a customer expects to assess over the course of a year.